Sara 76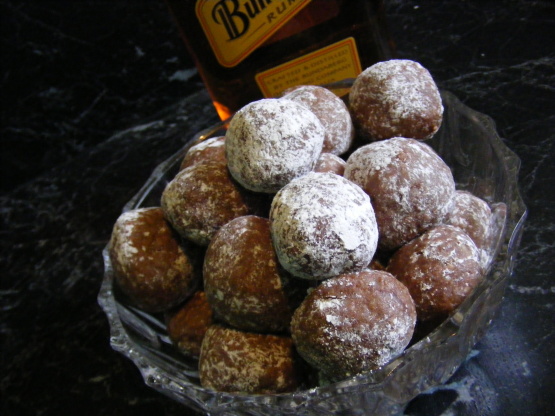 My husband's Aunt Vi was a fabulous cook. If there was anything guaranteed at Christmas, it was her potent rumballs. These do pack a punch. This is one treat that's 'Adults Only'. I'm very happy to be able to carry on the tradition.

These taste great! I made them for hubby, and I'm sure he's going to love them. I will make them again, but I think next time I will roll them in chocolate splinters, as they keep going sticky, no matter how many rolls they get in icing sugar. Great recipe, thabks for sharing! [Made for Aus/NZ Swap]
In a large bowl, mix together wafer crumbs, 1 cup of icing sugar, pecans and cocoa.
In a separate bowl, mix together syrup and rum.
Stir the syrup mixture into the dry ingredients until well combined.
Form into 1" balls, and roll in the remaining 1/2 cup of icing sugar.
Store in an air tight container.