Asparagus With Sesame Oil Vinaigrette
lazyme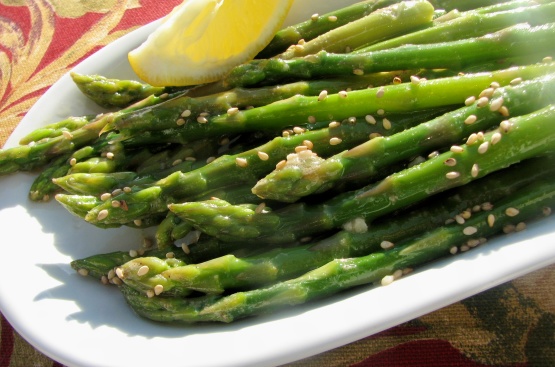 This is the Runner-Up recipe for 1987 in the San Francisco Chronicle. Because sesame oil is such an integral part of the dressing, be sure you use fresh oil of the highest quality. This asparagus makes a perfect accompaniment to grilled, broiled or fried salmon fillets or steak. Toasted sesame seeds sprinkled over the asparagus just before serving are a nice touch. Other vegetables, such as green beans, work well with this dressing. From Bruce Cost.

This is an excellent divergence from the way I usually make asparagus (steamed). Instead of boiling the asparagus I sauted it in the marinade to preserve the asparagus nutritional value. I also used kosher salt and added a little more dijon mustard as we like it. I served the the asparagus with Recipe #54202 and Recipe #87378 (for the kids otherwise we would have eaten it with dill rice). Thank you for this recipe.
Boil the asparagus in a large quantity of water for 3 to 5 minutes, depending on thickness, then drain and run under cold water to stop the cooking. Dry thoroughly. Combine the garlic, salt, pepper, mustard and lemon juice in a bowl and whisk to blend. Whisk in the sesame oil. Pour over the asparagus, toss and serve.