Asian-Style Grilled Chicken Salad
teresas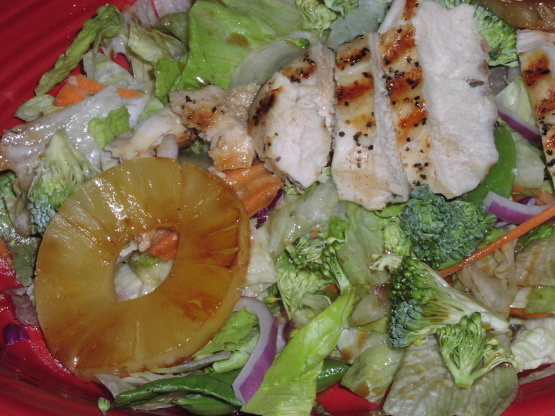 Serve with rolls for a great meal! Adapted from a recipe found on the interent.

Easy to prepare and looks great plated. Has a nice flavor. It's a great dish to prepare on a work night. Also low in calories. This is a keeper. I did not use peanuts but next time I will sprinkle on some toasted sesame seeds. Thanks, Lvs2Cook for posting.
seasoned pepper

1

(8 ounce) can pineapple slices

3

tablespoons vegetable oil

2

tablespoons soy sauce

2

tablespoons reserved pineapple juice

1

tablespoon vinegar

1

tablespoon honey
1⁄4 teaspoon ground ginger
mixed greens (lettuce, red onion, grated carrots, red pepper and broccoli)
peanuts (optional)
Lightly sprinkle chicken breasts with seasoned pepper. Grill, until chicken is thoroughly cooked and slice chicken into strips.
Reserve 2 tablespoons juice from pineapple. In a covered jar, combine vegetable oil, soy sance, pineapple juice, vinegar, honey aud ginger. Shake well.
Brush pineapple slices with dressing: grill 2 to 3 minutes.
Arrange chicken and pineapple over lettuce and vegetables. Sprinkle with peanuts, if desired. Top with salad dressing.