JustJanS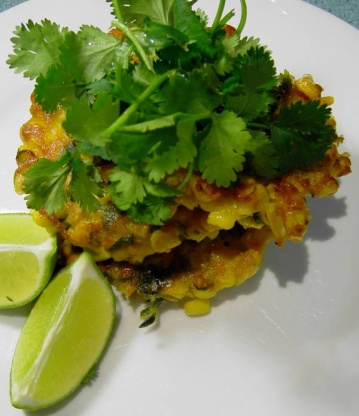 My son brought me some beautiful corn from hi garden, so we came up with these last night. You could use canned or frozen corn-I'm guessing about a 440g (16 ounce) can. This was quite a thin batter, but cooked up really nicely.

these were very good, i used frozen corn and ended up putting the mixture in the blender because the thin batter kept running away from the corn kernels.
Bring a saucepan of water to the boil.
Remove kernels from corn cobs.
Place in the boiling water, return to the boil, then allow to boil for about 2 minutes.
Drain remove to a mixing bowl and allow to cool a little.
Add all remaining ingredients (except oil) and mix well.
Heat the oil in a large frying pan over medium high heat; place heaped tablespoons of mixture in the oil, flattening each cake a little.
Cook about 5 minutes on one side (until set and golden), turn and cook a further 2 minutes on other, or until cooked through and golden on that side.
Repeat with remaining mixture.
Serve with lime wedges, or an Asian style dipping sauce of your choice.