As-big-as-a-plate Cookies
Lvs2Cook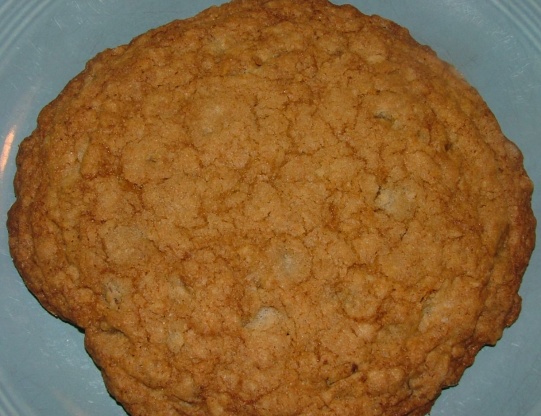 I have been making these cookies since I was married 26 years ago. The original recipe came from Sunset magazine, I think, and these are my husband's favorites. Make sure to let them cool on the cookie sheet for at least 5 minutes after baking or they will fall apart.

My ten year old son loves to bake, so he made these. My other kids were drooling as they waited for these to cool enough to eat. They loved them. These were really big cookies and we got 5 big cookies for the batch. Thanks for the recipe.
1 1⁄2 cups flour

2

teaspoons baking soda

1

teaspoon salt

1

cup butter, at room temperature
1 1⁄2 cups brown sugar, firmly packed

2

eggs

1

teaspoon vanilla
2 1⁄3 cups quick-cooking rolled oats

2

cups semisweet chocolate or 2 cups butterscotch chips
1 1⁄2 cups chopped nuts (your favorite ~ optional)
Preheat oven to 350º.
Mix flour, baking soda, and salt in a small bowl and set aside.
In a large bowl, beat butter and brown sugar until creamy. Beat in eggs and vanilla. Gradually add flour mixture, beating until well blended. Stir in oats, chips, and nuts, if using.
Spoon 1/2-cup portions of dough onto greased baking sheets, spacing cookies 6 inches apart and 2 1/2 inches from edges of sheets. Grease bottom of a pie pan (I use cooking spray), dip in granulated sugar, and use to flatten each cookie into 5 inch circle. If necessary, press cookies lightly with your fingers to give them an even thickness.
Bake at 350º until edges are lightly browned, about 15 minutes. Let cool on baking sheets for about 5 minutes, then transfer to racks to cool completely.