Aromatic Herbed Bread Filled With Prosciutto
Rita1652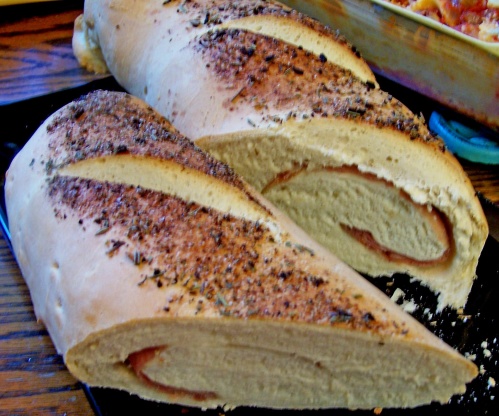 This recipe is a true crowd pleaser! Although we tried the herb mixture on half of the first loaf, we preferred to have the loaf plain. We just sprayed it with some butter before cooking and it came out perfect! We have also tried some other meat selections, since Prosciutto is really expensive in our area. We liked turkey pastrami, turkey, ham and etc. In addition, we added mozzarella or gouda cheese that melted perfectly! This is a great substitute for frozen pocket sandwiches that can be bought at the store.
Place all the bread ingredients except prosciutto in the bread machine pan in the order suggested by the manufacturer.
Select dough cycle and start machine.
At end of cycle take dough out and punch dough down and flatten; roll to a rectangle. place prosciutto over in a single layer then roll up as a jelly roll.
Score top. Place loaves on greased cookie sheet. Cover; let rise until double, about 40 hour.
Preheat oven to 400 degrees F.
Brush loaf with milk. Sprinkle with herbs. Bake until a hollow sound when tapped, about 25 minutes; cool on wire racks.