Apricot Orange Glazed Carrots With Cranberries
loof751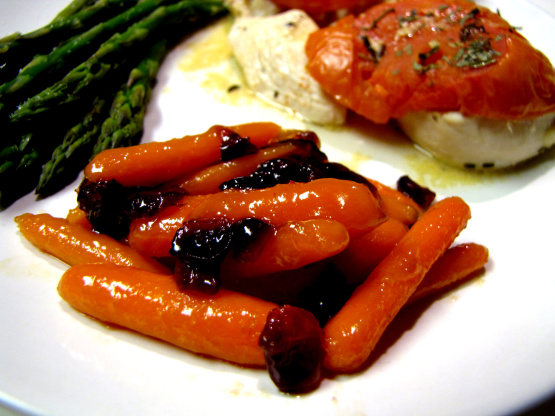 This recipe, slightly tweaked, came from Taste of Home Summer Slow Cooker Meals, Jul 08.

Top Review by ShaGun
Delicious & company-worthy! I made these when we had guests over today. They tasted wonderful and looked beautiful. I'm definitely adding this to my list of sides that I make for when we invite people over for a meal. I steamed 2 lb. of baby carrots. I mixed the glaze ingredients in a bowl and microwaved it for a minute and then poured that over the carrots. I had to make some substitutions because of what I had on hand, so I used peach jam in lieu of the dried apricots and used country-style orange juice concentrate instead of the orange juice and the orange zest.
In a large saucepan, add 1 inch of water, then add carrots, & bring to boil.
Cover, reduce heat & simmer 9-11 minutes or until crisp-tender, then drain & set aside.
In the same saucepan, combine remaining ingredients, & cook, stirring constantly until lightly thickened.
Return carrots to saucepan & stir until glazed & heated through.