Apricot and Orange Smoothie
ImPat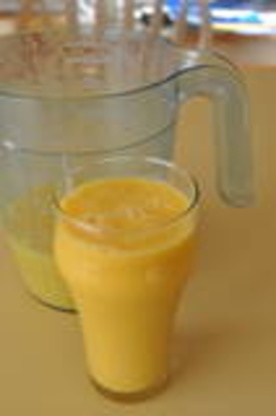 This recipe (with measurements slightly tweaked) comes from the SMOOTHIES & JUICES 2006 cookbook that I received from my current cookbook swap partner, Tansy. Preparation time does not include the time for the apricots to soak in boiling water overnight.

Top Review by ImPat
This made 2 huge glasses that the DM and DS thoroughly enjoyed for breakfast. I just put the ingredients into a large jug and stick blended the lot leaving a few chunky bits of apricot which they really liked. Thank you Sydney Mike made for Almost 5 Tag Game.
Put quartered apricots in a small bowl & pour boiling water over them, before covering them & leaving to soak overnight.
In the morning, put the apricots & the water into a food processor or blender & process until pureed.
Add orange juice to the mixture & process until combined.
Pour into two tall glasses & top each with 1 tablespoon of yogurt & a sprinkling of brown sugar.