Bayhill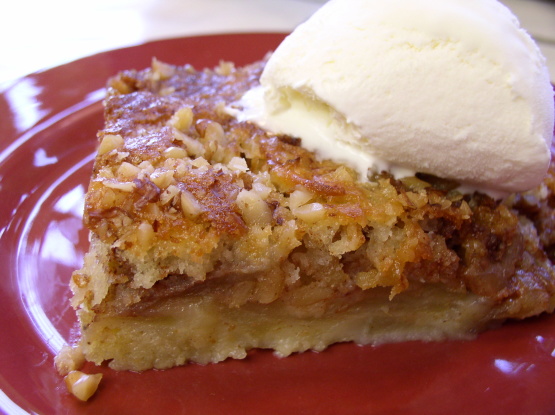 My MIL's recipe. Easy and a nice fall dessert.

Wonderful dessert. I typically make apple crisp for dessert when we have company. This time I wanted to bake something different so I decided to try this. Love how the topping sinks to the bottom and makes a crust. Easily converted this to gluten free just as written using my favorite GF flour mix. Will definitely make this again - might try using pecans next time since we like them better than walnuts.
Place apples in a greased 9-inch square baking pan; spread them out evenly.
In a bowl, add 1/2 cup sugar, cinnamon, and coarsely chopped walnuts; stir to combine.
Sprinkle mixture over apples.
In another bowl, add the flour, 1 cup sugar, baking powder, and salt; stir to combine and set aside.
Mix together the egg, half-and-half, and butter in a bowl; add to flour mixture; beat until smooth.
Pour over apples.
Sprinkle with finely chopped walnuts.
Bake at 325° for 1 hour or until pick comes out clean.