Annacia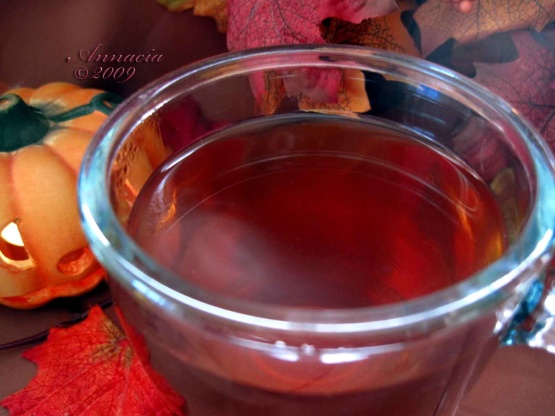 Gourmet magazine, March 2006.

This is warm and comforting and I just can't believe that I forgot to drop the cinnamon stick in! I trimmed back on the brandy. I used Tetley's regular but I think that Darjeeling would be a treat in this. It was very welcome on a this gray, wet afternoon. I did add some Splenda as the apple juice wasn't quite enough with the strong tea. Although the directions want the juice made into a syrup, I opted to use just the juice because concentrating it would also concentrate the sugar and make it impossible for me to try this. I'm sure that it would be even better with the intensity of the apple syrup.
2

quarts filtered apple juice
1 1⁄2 cups brewed black tea, such as english breakfast
1 1⁄2 cups apple brandy such as calvados
Boil apple juice in a 4-5 quart heavy pot over high heat until syrupy and reduced to 1 1/2 cups, about 50 minutes.
Combine apple syrup, tea and Calvados in a 2 quart saucepan and heat over moderate heat until hot (do not boil).
Divide toddy among 8 small cups and serve with a cinnamon stick in each.
Note: the apple syrup can be made 1 week ahead and cooled completely, uncovered, then chilled, covered.