Debbwl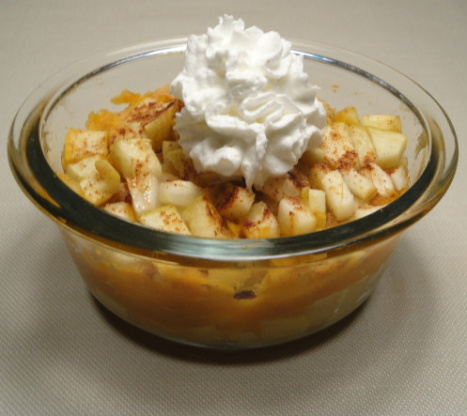 I love both apple and pumpkin pie, and always enjoy creating new things I can make in my dorm. This, I am convinced, is even better than pie-- and it's even healthy!

Top Review by Debbwl
Just like an apple pumpkin pie with out the fat and calories of the crust. There is a lot to like about this from how healthy it is to how quick and easy it was and another plus is that it is a single serving size. Made as written and look forward to making again. Thanks for the post. Deb
Chop apple into small pieces (about the size for apple pie).
In microwavable bowl, sprinkle 1/3 packet of Sweet & Low, and pumpkin pie spice. Layer 1/4 of the apple pieces on top. Sprinkle more Sweet & Low and pumpkin pie spice, and repeat.
With half the apple is layered, spread canned pumpkin over apples. Sprinkle generous Sweet & Low and pumpkin pie spice, then continue layering on the apple pieces.
When all apples have been added, pour water over mixture.
Microwave for 3 1/2 minutes, stirring the mixture about every minute.