Apple Pork Roulade With Pinot Noir Sauce
Korkin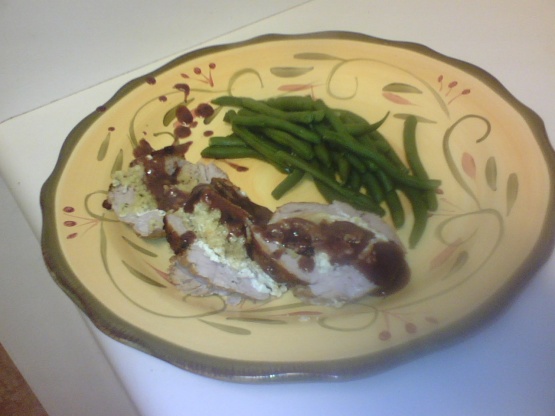 This dish is fabulous. Pork tenderloin is a wonderful meat, very lean but ful of flavor. I started with a classic combination of pork and apples, then wanted cheese and a starch for flavor. Couscous cooks in just a minute or two so the prep work was a snap. Use an oven safe skillet to sear, roast and make the pan sauce.
1

lb pork tenderloin

4

ounces goat cheese (you can use the herbed variety)
1⁄2 cup fuji apples or 1⁄2 cup gala apples, sliced very thinly
1⁄2 cup cooked couscous
1⁄2 teaspoon kosher salt
1⁄2 teaspoon pepper
1⁄2 teaspoon all purpose Greek seasoning, blend
kitchen twine

1

tablespoon canola oil

1

tablespoon flour

1

cup pinot noir wine
Preheat the oven to 400 degrees.
Butterfly the tenderloin by slicing through 3/4 of the meat lengthwise down the center and fold it open like a book.Cover the meat in plastic wrap and pound it with a mallet or rolling pin to flatten it out to 1/2 an inch thickness.
Spread 2/3 of the surface of the meat with the goat cheese, leaving a strip at the end bare to keep the filling from oozing out. Place the apple slices in two rows lengthwise and add the couscous to the center. Roll the pork up tightly into a roast and secure with four ties of the butcher's twine.
Heat the oil in a skillet on medium high heat. When hot, almost to smoking point, add the meat and sear on all sides, getting as much carmelization as possible.
Place the skillet in a 400 degree oven and roast for 25 minutes, or until internal temperature is 165 degrees. Remove from oven and let the meat rest on a cuttong board for ten minutes.
Meanwhile, put the skillet back on the stove and add the flour to the pan drippings. Wisk together until flour is incorporated and let cook cook for a minute before adding the wine.
Let the sauce reduce to a desired thickness turn off the heat. Slice the meat and serve with sauce.