Calee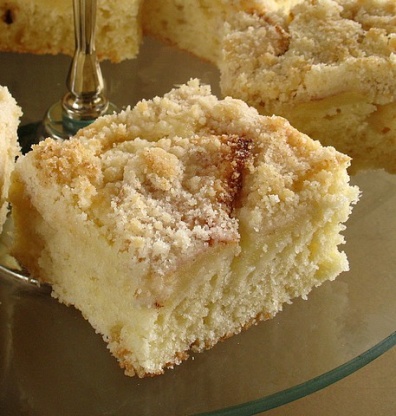 This is a apple cake recipe that is made in a 10x15 cookie sheet. Very easy to make. This served warm with ice cream is very good. Freezes well. When the berries are in season I top this cake with blueberry, raspberry and blackberries.

Good and very simple dessert that makes a quantity. Kind of like a bar, although the bottom layer is more tender and cake-like. Nice flavour. I used all butter as I am no fan of margarine. The cinnamon can definitely be upped and I think other spices would work well, too.
In bowl combine flour and sugar baking powder.
Add margarine and butter mix together with hands until you have fine crumbs.
Set aside 1 1/2 cups of the crumbs.
In remaining crumb mixture add eggs, milk and vanilla, mix until just moist.
Pour batter onto a greased 10x15 cookie sheet, top with sliced apples.
Sprinkle 1 tsp cinnamon and 1 tsp sugar on top of the apples.
Top with remaining 1 1/2 cups of reserved crumb topping. Pat down slightly.
Bake at 375°F for 35-40 minutes.
When making the blueberry, raspberry, blackberry I don't use the 1 tsp sugar or the cinnamon (about 1 cup of each of the berries or more depending on how much fruit you like for topping).
** When baking, place a larger cookie sheet underneath.