Apple Pear Cucumber Salad
Derf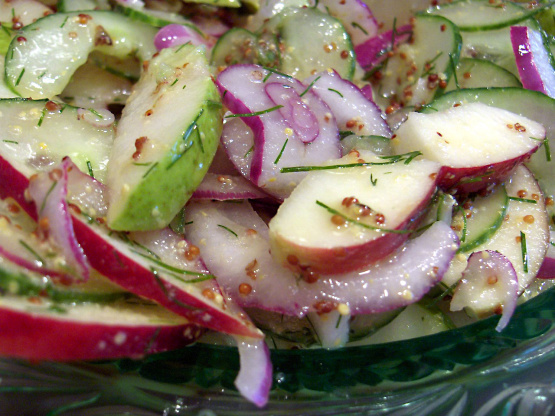 This crunchy, sweet and tangy salad mixes familiar fruits and veggies with a whole grain mustard dressing and apple cider vinegar. From Whole Foods.
Top Review by PatCM
I made this for Friday supper. I was alone so adjusted the measurements. I loved this salad. It was so delicious. <br/>Because I had all the ingredients on hand I could follow the recipe exactly. It filled me up. It was crunchy and with the blend of dilll (had to use the dried) and everything else, I'm going to make this for Thanksgiving.
For the Dressing:.
Mix together the mustard, dill, vinegar, sugar and olive oil. Set aside.
For the Salad:.
Core and slice apples and pears into thin slices, leaving skin on for color and flavor.
Slice cucumber into rounds (if using cucumber with seeds, cut in half lengthwise, scrape out seeds, and cut into half moon slices).
If cucumber is waxed, peel it; otherwise leave skin on.
Slice onion any way you like.
Add all to bowl with dressing and toss to coat.