Apple Pear Cucumber Salad
Derf2440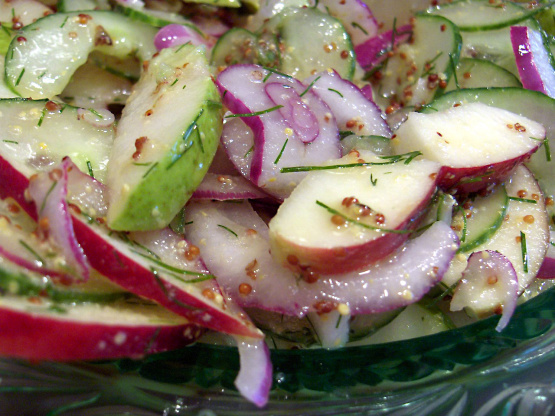 This crunchy, sweet and tangy salad mixes familiar fruits and veggies with a whole grain mustard dressing and apple cider vinegar. From Whole Foods. I made this last night and it was amazing. I actually diced up a Fuji apple and English cucumber about 1/4 inch in thinkness. The few things I did different was used avocado oil instead of the evoo. I omitted the brown sugar as well. The apple was sweet enough that I didn't need it. I also substituted the vinegar for 1/2 lemon. Will definitely keep this in the weekly rotation.
For the Dressing:.
Mix together the mustard, dill, vinegar, sugar and olive oil. Set aside.
For the Salad:.
Core and slice apples and pears into thin slices, leaving skin on for color and flavor.
Slice cucumber into rounds (if using cucumber with seeds, cut in half lengthwise, scrape out seeds, and cut into half moon slices).
If cucumber is waxed, peel it; otherwise leave skin on.
Slice onion any way you like.
Add all to bowl with dressing and toss to coat.