Apple Dip (It's Not Just for Apples Anymore)
lets.eat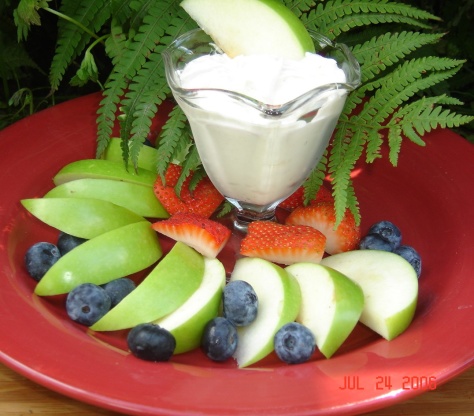 I love this dip, possibly more than caramel dip! HOWEVER, it seems I have limited it's possibilities by implying that it should be reserved for apples solely from the recipe's title. That is not the case!! WHY should you try this dip? Well the marshmallow and cream cheese dip is great, but I believe it's the cinnamon that really sets it apart!! I think you could put the ingredients on a long list of things, but I'll let you use your own creativity for that. I prefer it with very tart apples, such as Northern Spy or Granny Smith, but have used it with all sorts since dh likes sweet and softer apples. It is very good and very easy and can be prepared in advance, such as for parties.

Top Review by Shaye
I've made this recipe for years, I use the small jar of marshmallow creme and it is delicious. I sometimes omit the cinnamon, especially when I use it with a tropical fruit tray using pineapple and strawberry. I also usually make sure to cream cream cheese well so I don't have lumps. Good stuff!
Let cream cheese soften just slightly at room temperature.
With a mixer, combine cream cheese and marshmallow creme until smooth.
Add cinnamon and stir.
Refrigerate until serving.