DuChick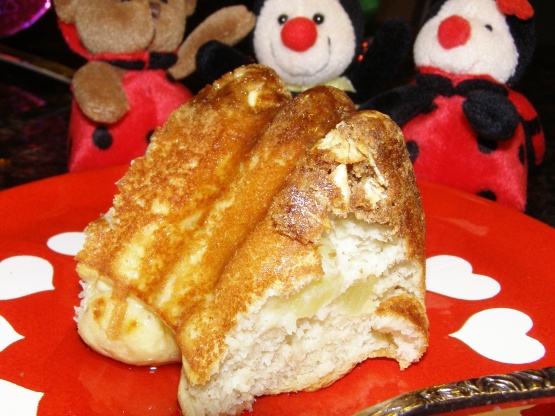 I got this recipe off the internet, but I don't remember the website.

This was quite a tasty treat on a cold morning and produced just the right aroma to rouse my DH out of bed! I adjusted the amounts to make 1/2 the recipe and used a heart-shaped bundt pan instead of a regular baking dish. That meant I had to put the topping in first, then add the batter. It popped out perfectly! I also nuked a small apple to add to my non-chunky applesauce and glad I did. The only thing I'll do next time is add a little sugar or Splenda to the batter. It had a fabulously light texture, but just needed more sweetness. As all good pancakes need, we topped ours with syrup, but that's not necessary. Thanks 4-H Mom!
Mix oats, 1/4 cup Bisquick, brown sugar, cinnamon, and butter. Set aside.
Mix remaining ingredients until well blended.
Pour into greased jelly roll pan. Spread batter to edges.
Sprinkle oats mixture over batter.
Bake at 425°F for 14-16 minutes or until light golden brown.