Mami J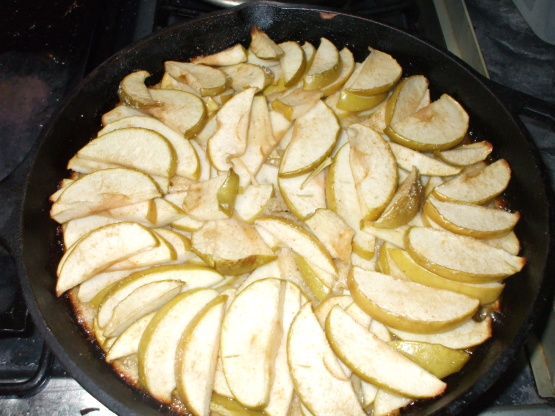 This is a quick, easy, and delicious desert that just may replace apple pie in your home.

Top Review by ImPat
I made as directed but had to use a 10" square cake tin and it was cooked in 40 minutes in a 160C fan forced oven. We found the cake to be a little dry but made a pleasant dessert though I would advise that you serve this cake warm as it certainly looses something when it goes cold. Thank you Pa Hiker, made for ZAAR Chef Alphabet Soup.
Preheat the oven to 350°F.
Butter a 9 ½" to 10" (2" deep) cast-iron skillet; or a 9" square cake pan.
Combine the apples with the brown sugar, apple juice concentrate (do not dilute), spices, and salt. Set aside.
Combine the flour, sugar, baking powder, and salt. Set aside.
Mix the warm milk, egg, melted butter, and vanilla. Add to the flour mixture, stirring to combine. Pour into the prepared skillet.
Spoon the apple mixture onto the batter. For the best appearance, make sure the apples are distributed a little more heavily towards the edges of the pan.
Sprinkle with coarse sparkling sugar, if desired.
Bake for about 50 to 60 minutes, till it's light brown and a cake tester inserted into the center comes out clean.
Remove from the oven, and cool for about 5 minutes.
Loosen the edges of the cake from the pan, and cool for another 20 minutes or so.