Apple Butter-Peanut Butter Cookies
Saturn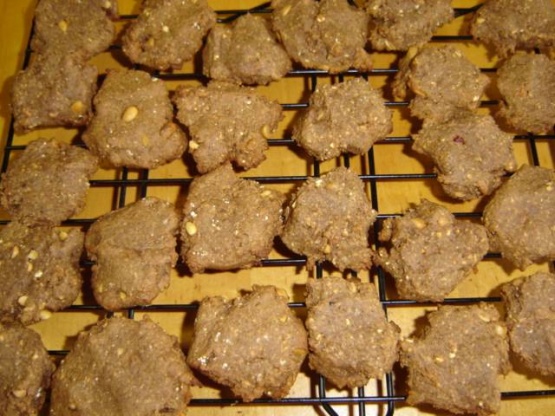 Healthy apple butter/peanut butter cookies.

I totally loved these!! My mom did too. I'm vegan so I subbed soy flour for the powdered milk. It worked beautifully- they tasted like a cross between peanut and soynut butter. Also used golden raisens. Wil be making the full batch next time!
Prepare cookie sheet with oil.
Preheat oven to 350.
In a large bowl, beat apple butter, peanut butter, and vanilla.
Set aside.
Stir together in a medium bowl powdered milk, flour, salt, cinnamon and raisins.
Add dry ingredients to apple butter mixture and mix well.
Drop by teaspoon onto prepared cookie sheet.
Flatten with fork dipped in ice water, making a criss-cross pattern on top.
Bake at 350 for 10 minutes Cool.
Refrigerate until well chilled.
Serve cold.
These freeze well.