Amish Baked Noodles With Ham
ChefLee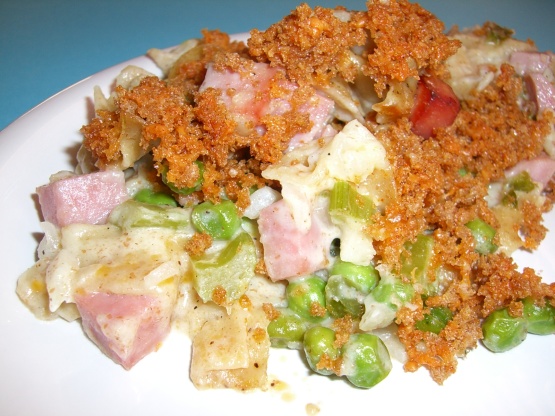 Insanely delicious comfort food!

Very excellent casserole. I did add cheese as recommended by others and I used seasoned breadcrumbs and a pea and carrot mix because that was what I had on hand.
Saute the onion and celery in the 3 tablespoons of butter.
Add the flour and mustard and heat for a couple of minutes until the flour is cooked.
Gradually add the milk, stirring constantly, and continue heating until thickened.
Stir in the ham and peas and then toss in the noodles.
Season to taste with salt and pepper.
Pour into a greased casserole dish.
Sprinkle the top with bread crumbs and dot with butter.
Bake at 350°F for about 45 minutes.