Ambrosia Oatmeal (WW Core)
PaulaG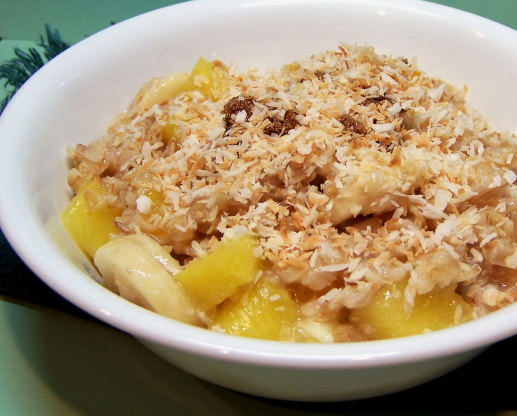 Another entry in my collection of oatmeal combinations. This one is a little bit odd but the results are surprsingly good. I have presented it here to match my own desired consistency, but you should adjust to your own tastes.

Absolutely wonderful breakfast, & I even see myself making it for a quick & very satisfying supper some night when I'm not wanting a whole lot of anything! Followed your recipe right on down, including the coconut! You really know how to dress up a bowl of plain ol' oatmeal, & the recipe is a great keeper! Thanks for sharing it! [Made & reviewed in Healthy Choices ABC tag]
Place water in a medium saucepan and bring to and bring to a boil.
Add oats and reduce to a simmer.
Add the extracts. (A caution here; one drop if lemon adds a certain clean quality that works well with the fruit. More than that and the results are likey to be off. If you are concerned about your accuracy, I would omit rather than add too much.).
Cook as directed on you pacakage somewhere between 3 to 5 minutes.
One minute before the oatmeal is done, stir in the banana slices, pineapple and oranges.
Divide into two bowls, garnish with coconut if using.
Two tablespoons of shredded coconut is 1 point.