Alton Brown's Baked Macaroni and Cheese
unebo1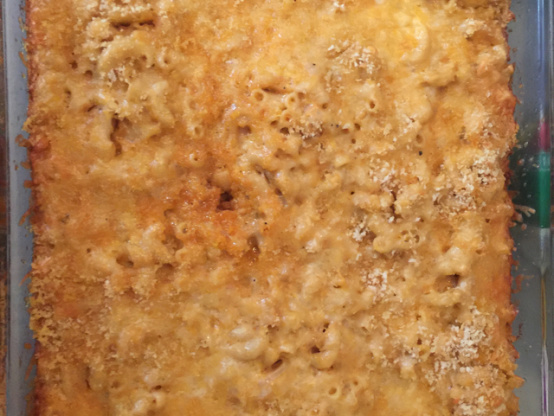 This is in reply to a request for mac and cheese. I copied this from Alton Brown "Good Eats" from the food network. Does take a bit of work, but well worth it. You can add tuna, hot dogs or any other kinds of additions you want.

"The purpose of cooking the roux".. ( flour butter mixture) is to cook the flour taste out of it).. as well as to make the perfect lump free sauce!..<br/>I made this per Alton's directions.. I grated my onions and gave them a quick rise with water..before adding to the milk..( rising removes that onion odor)..I also added a 3 oz of cream cheese...PERFECT!...will make this one for my family cook book!
Preheat oven to 350 degrees F. In a large pot of boiling, salted water cook the pasta to al dente.
While the pasta is cooking, in a separate pot, melt the butter. Whisk in the flour and mustard and keep it moving for about five minutes making sure it's free of lumps.
Stir in the milk, onion, bay leaf, and paprika. Simmer for ten minutes and remove the bay leaf.
Temper in the egg. Stir in 3/4 of the cheese. Season with salt and pepper.
Fold the macaroni into the mix and pour into a 2-quart casserole dish. Top with remaining cheese.
For the topping, melt the butter in a sauté pan and toss the bread crumbs to coat. Top the macaroni with the bread crumbs. Bake for 30 minutes.
Remove from oven and rest for five minutes before serving.