Almond Cheddar Appetizers
alligirl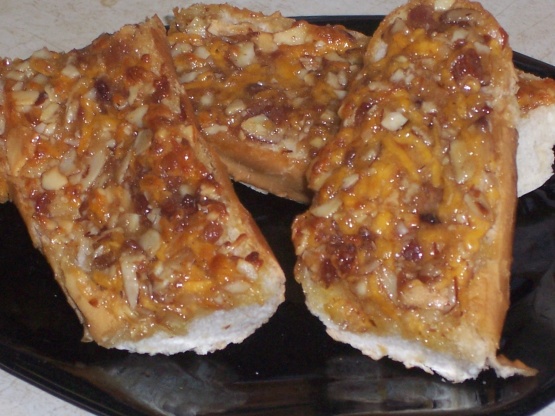 May be made ahead and frozen. Place in freezer in single layer on baking sheet and when ready to use bake at 400 for 10 minutes. From Taste of Home.

Originally on Taste of Home. A good appetizer to have on hand in the freezer. However, I think it needs a bit more depth. So I use 1 less t. mayo, Then add in 1 to 2 more T. Worcestershire ( low sodium) & a pinch of course cracked pepper. Plus a pinch more cheddar, and 2 more slices of bacon. I do love the make ahead aspect though. Also, as long as your cooking up bacon, check pit the BLT dip on this site. Tip : No need to stand and fry all that bacon..... just place a wire rack OVER TOP of a rimmed, foil covered baking sheet Lay bacon on the rack, then roast the bacon @400 for 18 - 20 min
In a bowl, combine mayonnaise and Worcestershire sauce; stir in cheese, onion, almonds and bacon.
Cut bread into 1/2 inch slices; spread with cheese mixture. Cut slices in half; place on a greased baking sheet.
Bake at 400 for 8-10 minutes or until bubbly.