All Purpose Dinner Crepes Batter
Bergy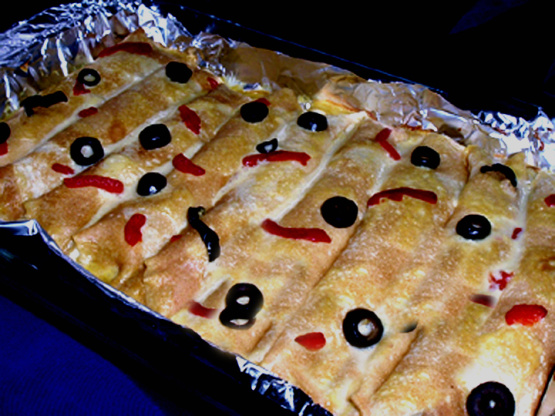 This basic crepe recipe can be used for all your dinner entree crepes. It is great because you can wrap them in plastic, wrap them in foil and freeze them for when you want to whip up a quick elegant dinner. Recipes for fillings will be posted separately.

Awesome! My husband has been bugging me to make crepes for dinner for months and I haven't gotten around to doing it, I finally did and they were great. The batter was so easy, I think the hardest part was letting it sit for an hour before I could start cooking, but it gave me a chance to make a nice filling with bacon, onions and mushrooms. Thanks again Bergy!
Put all the ingredients in your blender, blend for 1 minute.
Scrape down the side, blend for a few seconds until smooth.
Refrigerate for 1 hour.
To Cook:.
Use upside down crepe pan and follow instructions or.
Use a non stick skillet, you do not need oil or fat on the pan.
Pour a little batter in the pan, tilt and turn the pan to evenly cover the bottom of the pan with the batter. Cook over medium heat for a couple of minutes until the bottom is lightly browned. Flip the crepe cook for a few seconds more.
Remove from heat and stack on a plate with wax paper between the crepes.