Addictive Healthy Muffins
PaulaG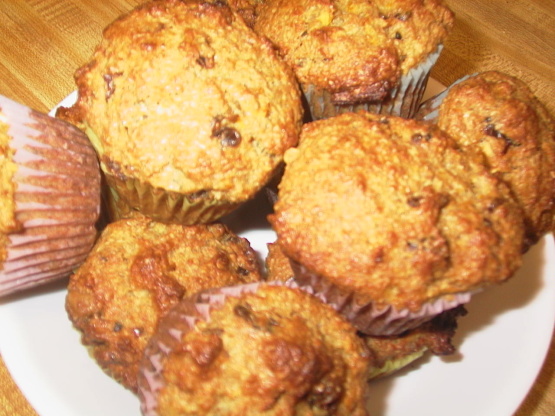 This recipe had come to me through several hands and has no doubt been somewhat modified although I was told the original may have come from Prevention Magazine. These keep very well and freeze beautifully. You will need a food processor to chop the oranges but the rest is done by hand You may have to do some searching in a good market or health food store for some of the ingredients but once you try them you will be glad you too will be addicted.

I used turbinado instead of brown sugar plus a little honey. I didn't have buttermilk so I used regular milk with a little sour cream. I didn't have raisins. I doubled it then split into 3 parts and added chocolate chips to one (pretty good), frozen blueberries and raspberries to one (good), and date chunks and coconut flakes to the third (very good! So yummy, I will only do this one in the future) The doubled recipe made 3 dozen muffins and they took only 28 minutes to cook.
Preheat oven to 350 degrees.
Line two medium size muffin pans (2-1/2" muffins) with paper muffin cups.
In medium bowl put all dry ingredients together (except brown sugar) mix together and set aside.
If using buttermilk powder, add it here and add the water with the wet ingredients.
Wash and cut the stem end off the oranges.
Cut into small equal pieces skins and all.
Put into workbowl of food processor and pulse until pieces are about the size of large raisins.
Put oranges into a large bowl, add all the wet ingredients and brown sugar.
Mix together by hand then add in dry ingredients and stir until all are incorporated.
Allow to stand about 3 minutes then fill each muffin cup to top.
Each cup will take about 1/4°C These are dense and do not rise much.
Top off each with any leftover mixture.
Bake at 350 degrees for 40 minutes, remove from pan to wire rack to cool.
To freeze; Allow to cool for at least 4 hours, I put 6 in each plastic bag. To reheat, Reheat from frozen state for one minute or thaw at room temperature and reaheat for about 15 seconds. Microwave ovens vary a lot so you may have to modify the time.
enjoy.