Acadia's Chicken Parmesan
KateL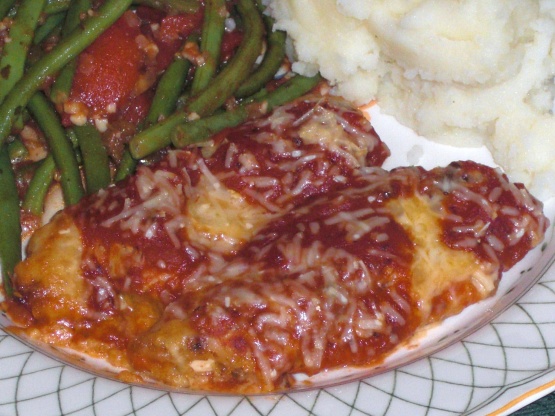 Most chicken parmesan that I have had in restaurants have always been made from a boneless chicken breast that was flattened with a mallet, with a dollop of mozzarella cheese and sauce. With this recipe, I have chosen instead to use boneless chicken tenderloins, with a generous amount of mozzarella and sauce. This is one of my Dad's favorite recipes and he requests it every year for his birthday celebration. I serve it with fresh NJ sweet corn, ratatouille and garlic bread. It is a wonderful feast!

Acadia, this is simply wonderful in every-way. I followed this exactly, and it was an ease to prep, and then on to the table in literately minutes. This was so perfect after a busy Saturday, and so heart and soul warming. I followed this exactly, except used my own canned sauce from the garden this summer. Lovely! Thank you, Acadia!
Wisk eggs and milk together in bowl for 1 minute.
Place the bread crumbs in another bowl or a.
plastic bag.
Dip the the chicken in the egg/milk mixture and then.
coat it with the bread crumbs.
In a skillet on medium high heat brown the coated chicken in the olive oil (par-cooking it).
Then place the par-cooked chicken in a 9"x12"x2" baking dish in a.
single layer.
Cover the chicken with the mozzarella cheese, then the spaghetti sauce.
Sprinkle parmesan cheese on top of the sauce.
In a 350° F oven bake for 30-minutes (uncovered).
Enjoy!