60 Sec. Chocolate Oat Peanut-Butter Cookies!
Derf2440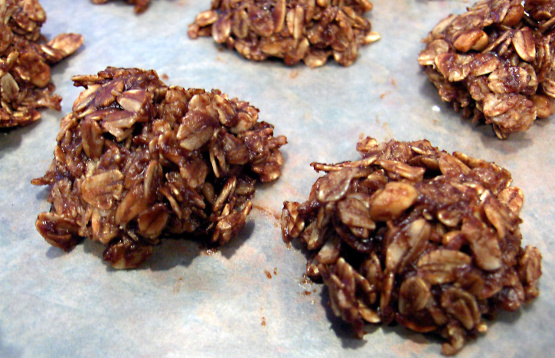 Ohh, one of my favorite quick sweet recipes! When I was about 10, I was at a friend's house and the mother made a few batches of these. When my ma picked me up, I had her taste one and she HAD to get the recipe. These are SOOOO good! They are quite addicting though hehe…you may need a few batches! 8)

Top Review by Naner
This recipe is similar to cookies/candy I made in Home Ec. back in the 80s. I really like the combination of peanut butter and chocolate, but the texture of the cookies was fragile. The cookies never really became firm. I added a smidgen more peanut butter than the recipe called for - may that's why.
Have all ingredients measured and ready.
Place sugar, milk, butter and the cocoa in pan.
Bring to boil.
Boil for 1 minute. Remove from burner.
Quickly, stir in the quick oats, peanut butter, and vanilla extract.
Drop onto wax paper by round teaspoonfuls.
Leave to stand approximately 1/2 hour.