Parsley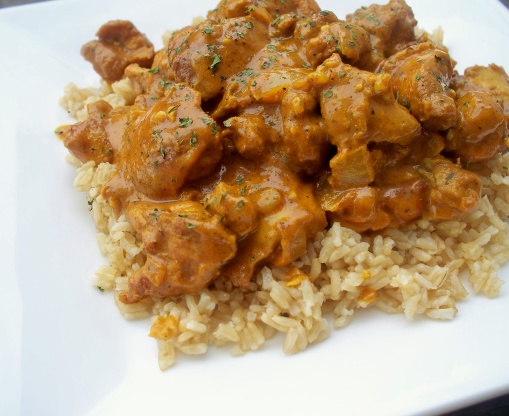 A very quick, easy and oh so tasy chicken dish that you can prepare in the shortest time. By the timeyou've cooked your rice, this is ready and waiting to be gobbled up :) Don't be fussy about quantities, you can vary all to suit your taste, especially with the cream

Fantastic! We love Indian food, and this dish was the fastest version of butter chicken we've found. Wasn't sure if the flavor would be there after such a short time but, it was! I think some of the directions were missing from this recipe but, my guesses apparently worked. We had this with white rice and naan bread. Will definitely make again and this may become a staple in our household! Thanks so much for sharing such a quick and easy version of this tasty Indian dish!
Mix together all the spices (except garam masala) and toss through the chicken.
Melt butter in skillet over medium high heat.
Add onion and garlic and cook until soft.
Add chicken.
Stir until golden.
Add tomato paste and garam masala.
Stir in cream.
Season and simmer for 5 - 8 minutes until rich and creamy.