C.C619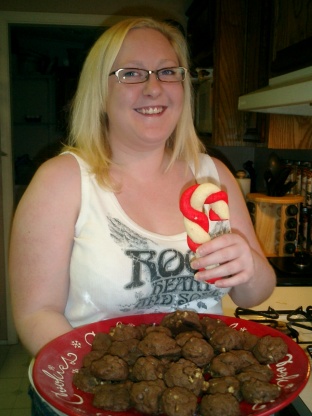 I was new to baking cookies, (used to buying them from the store) but I moved to the USA and found it to be quite a tradition here. This recipe comes from a combination of three different ones, it turned out to be mine and my daughter's favourite. I used a half cup of Cadbury's milk chocolate, chopped but left a bit chunky, and you can really taste the chocolate in them.

Top Review by MISSIB
I whipped these up tonite for a 91 yr old lady who said she loves choc. chip cookies. Fast, and easy to make. Only change, I added chopped walnuts. I had to pack them in a gift cannister because I have had about 4 of them and I might not have any left to bring to her. I like the brown sugar taste which was new for me. Thank you for sharing.
Preheat oven to 350°F.
Chop the milk chocolate into chunky pieces.
In a food mixer, cream butter and sugars on high till light in colour.
Beat in egg and vanilla.
On low speed add flour, cocoa powder, baking soda and salt.
Fold in both chocolate morsels and chopped chocolate.
Put spoonful's of batter on parchment paper lined cookie sheets and bake for 10 minutes. they should still be soft and will have a chewy texture.