10 Minute Blueberry Layer Cake
Bergy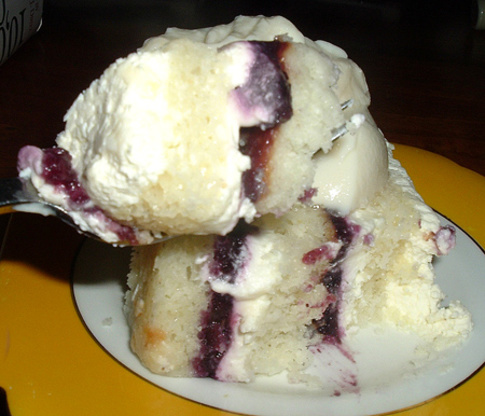 Company was coming and I wanted something easy, quick, yet nice for dessert and came up with this recipe. It was raved over. You may make it in a bowl like a trifle or free standing on a plate. If you assemble it on a plate, stick four bamboo skewers through it to keep it from shifting. I used purchased sponge cake, or if you like try an angel food cake. We have a dairy that makes wonderful no fat French Vanilla yogurt and it worked well but it is your choice to find your favorite. I used Mango French Vanilla and some plain French Vanilla on top, again choose your favorite to compliment the blueberries. This dessert can be made a day ahead and kept in the refrigerator or serve it right away.

I really enjoyed this! I used angel food cake, blueberry yogurt, the french vanilla yogurt and no sherry.I tried to stand it on end just for fun without the skewers and after it was all assembled, over it went. It was easy and delicious! Will definetly remember this one for a quick fix!
2

sponge cakes, each approximately 6 " across and 1-inch thick

4

cups french vanilla yogurt (or other flavor)

4

cups fresh blueberries
1⁄4 cup sherry wine (optional)
Slice the sponge cake diagonally across so you have four pieces each 1/2" thick.
Place one layer in the bottom of a bowl or on a plate and cover with 1 cup yogurt and 1 cup blueberries.
Place the next layer on top and drizzle with the sherry if using, repeat the layers of yogurt and blueberries.
Repeat with the final two layers ending up with yogurt and blueberries covering the top.
Place in refrigerator until serving.