Vegan & Vegetarian Shrimp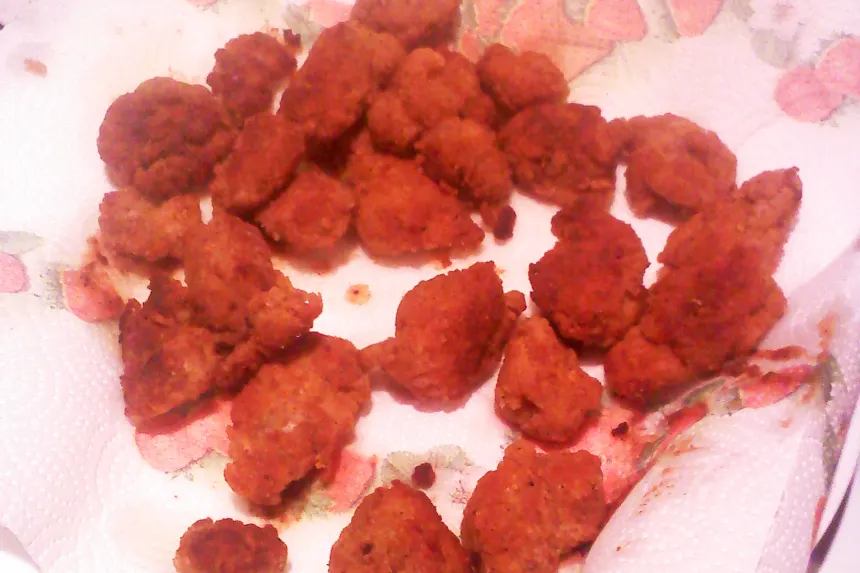 photo by YanaTengalas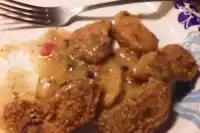 Ready In:

35mins

Ingredients:

8
directions
Sift together the gluten flour, garlic powder and paprika. Mix well.
In another bowl, combine the sweet potato puree and the oil.
Mix the dry ingredients into the wet, and knead by hand until you have a smooth dough. (2-3 minutes only, no need to over-do it. Keep in mind that the longer you knead the tougher the "meat" will be).
Pound the dough flat (about 1/2"), and slice into strips, approximately 1/2" thick (maximum) and 2" long. (These will poof up a lot while cooking, so don't be fooled into making them bigger! Smaller is best in this case!) Set aside.
In a medium saucepan, combine water, salt and seaweed to make a broth. Stir well.
Place strips into COLD broth, and then turn up the heat to medium-high, and bring to a boil.
Reduce heat and simmer for 30 minutes, or until floating to top and cooked through. (Note: thicker slices will require longer cooking times, and less for thinner slices.).
Serve with cocktail sauce, or garlic butter or butter alternative, or in your favourite main dish.
Questions & Replies

Got a question?
Share it with the community!
Reviews
Wow, thanks for this recipe! This was my first attempt at veganizing a pan-fried shrimp recipe that's traditional in my NC family's Thanksgiving lineup... omni hubby & I were both pleased with how it turned out! I followed the recipe for the dough exactly, except I had to add a couple tablespoons or so of broth, to incorporate all dry ingredients; I roasted sweet potatoes for soup, then used part of them in puree for this recipe, and maybe didn't make it moist enough to work right by itself... for the broth, I used 2 tsp Old Bay, 1 Tbsp 1 tsp salt, 1-1/2 Tbsp Atlantic kelp granules, and six 1"x3" strips of nori (the sheets you roll sushi in), with the recommended 8 cups of water. I pulsed the broth in batches in the blender, to incorporate the nori... the result smelled just like shrimp broth while it was cooking-- really brought back holiday memories! :-) I didn't do slices of dough, just pulled off 1/2"-1" pieces and rolled them into "unshrimpy balls"... after boiling, I tossed them in seasoned flour/ cornstarch and pan-fried, then drizzled with fresh lemon juice/ served with spicy cocktail sauce: YUM!! I'll try this recipe again, and flatten/ slice the dough instead-- the boiled-only shrimpy balls (the way I did it) were too soft to eat or use in recipes 'as-is', but great fried... I'm guessing that's 'cause I changed the prep method a little; oh well, guess I'd better try it again! (and again, and again, etc etc etc!) Thanks again, for the recipe-- it's a good one!

 

Thanks for this awesome recipe! I used it in an Australian themed supper for some "seafood" skewers and it turned out pretty well. My meat n' potatoes father actually said, "Hey, this tastes a little like shrimp!" WITHOUT me having told him what it was supposed to be. So, I'd say it was pretty successful. <br/><br/>I couldn't use seaweed, so I just cooked it in sea salt and added BBQ sauce as a dip, since it was a bit plain otherwise. They were also very mushy after the simmering, so I fried them for a few minutes to harden them up a tad. <br/><br/>Thanks again!