Uncle Bill's Perogie Dough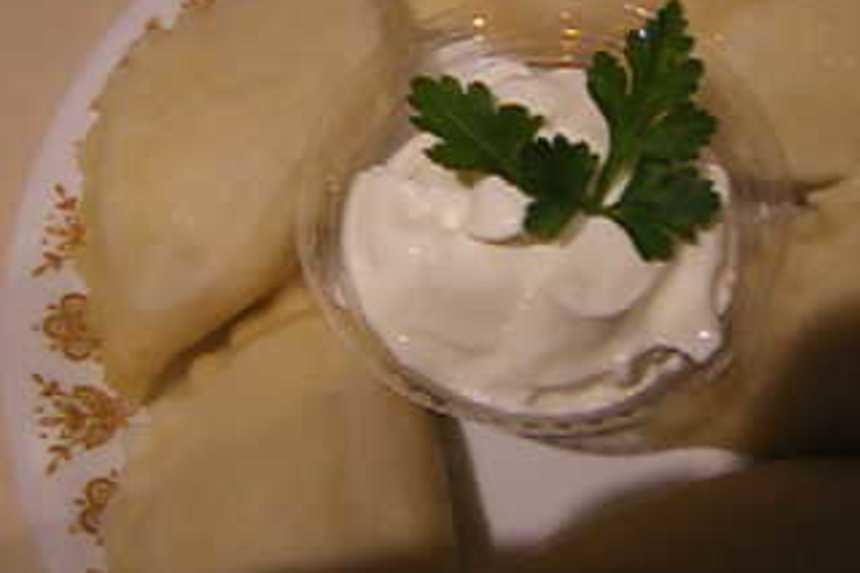 photo by William Uncle Bill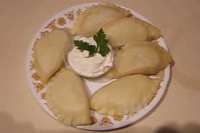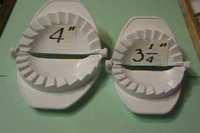 Ready In:

45mins

Ingredients:

7
directions
In a large size mixing bowl, mix together eggs, milk, whipping cream, sour cream and salt and whisk until well blended.
Add baking powder and blend until incorporated.
Add flour one cup at a time and whisk well the first two cups.
Add the third cup and now mix using a large plastic spoon or a wooden spoon.
Add the fourth cup and continue mixing with a spoon.
At this point, you may not be able to pick up all the flour, so roll out the contents onto a lightly floured surface.
Knead the dough until it becomes smooth and shiny.
If the dough is still sticky add a bit more flour and continue to knead until it is not sticky and does not stick to your hands.
Break dough off into chunks and roll between your hands to the size of a golf ball.
On a lightly floured surface, firstly flatten the dough ball with the palm of your hand to about 1/2-inch thickness, then coat each side very lightly with some flour.
Using a heavy rolling pin, (I prefer a marble rolling pin), start to roll out the dough.
As you are rolling, the dough should stick to the rolling pin.
When this happens and the dough is almost all the way around the rolling pin, peel the dough off as it should come off very easy.
Place the dough back on the rolling surface with the side that was against the rolling pin should now be on the rolling surface.
Very lightly, dust the top surface ONLY with a bit of flour.
Start rolling again, roll back and forth, then side to side to try and keep the dough round.
The dough should now be sticking to the rolling surface and not onto the rolling pin.
You will note that the dough does not "snap" back to a smaller round.
Should this happen, just re-roll again.
When finished rolling, the dough should be about 1/16-inch in thickness.
Open the Mini Form (photo above) and rub the surface with some flour, this will prevent the dough from sticking to the Mini Form.
Place the rolled dough over the Mini Form and make sure that the dough is well over the edges of the Mini Form.
Place about 1 heaping tablespoon of your choice of filling in the center of the dough.
Pick the Mini Form up and close it slightly.
If necessary, push the filling down just a bit.
Now fold the Mini Form completely shut and press tightly.
Hold the Mini Form closed and remove excess dough with your thumb or finger. This helps seal the edges of the dough.
Use the excess dough to form more dough balls.
Open the Mini Form and the perogi should drop out easily.
Set perogi aside until you prepare more.
Continue to make perogies with the remaining dough.
You can use whatever size of Mini Form that you desire, the 3 1/4" or 4". Five and 6" Mini Forms are also available.
COOKING INSTRUCTIONS.
In a large cooking pot or pasta pot, fill 3/4 full with water and bring to a boil.
Add 1 tablespoon of salt and 2 tablespoons of extra virgin olive oil or a good vegetable oil.
Gently add about 8 to 10 perogies to the pot, stir gently with a slotted spoon and bring back to boil.
Cook, uncovered for 2 to 3 minutes or until perogies float to the surface.
Remove with a slotted spoon into a bowl.
The perogies may be eaten immediately with some butter or margarine, a dollop of sour cream and a sprinkling of chopped green onions or chives.
The amount of perogies may vary depending on the size of Mini Form you are using.
If desired, preheat a frying pan to medium-high heat, add 3 tablespoons of butter and 1 tablespoon of olive oil or vegetable oil.
Add some finely chopped onions to the frying pan and sauté for 2 minutes.
Now add the perogies, cover and lightly fry until they are lightly browned on both sides, turning once.
Serve immediately with more butter if desired, a dollop of sour cream, chopped green onions or chives and even some cooked chopped bacon bits.
These perogies freeze well.
After the perogies are boiled, place them on a cookie sheet (absorb any water with paper towels).
Place sheet in freezer for at least 2 hours until perogies are frozen.
Place them into freezer bags or vacuum seal bags in whatever quantities are best for you and return the sealed units back to the freezer.
The perogies will last from 6 months to 1 year when frozen.
Questions & Replies

Got a question?
Share it with the community!
Reviews
I have been making perogies since I could walk. My mom had me in the kitchen rolling dough and mashing potatoes. This is the nicest dough I have worked with in those many years. The dough is best worked if left to sit for an hour or so after making. My friends and family get together at least once a year to make anywhere from 500 to 2000 perogies and then freeze them. They freeze remarkably well. I am however, only giving the dough 3 stars because it is quite high in fat and once you add all the fixings the meal becomes a quadruple bypass waiting to happen. next time I think I am going to try the recipe with a few substitutions i.e the milk, cream and sour cream and see how it goes.

 

Uncle Bill, your recipes are amazing! I made perogies using your dough (instead of my Mennonite grandmother's) and the cottage cheese filling we've always used (just like yours). Sooooooooo good! We've always served our "cheesepockets" with sour cream and onions fried in lots of butter. My niece and nephew have been known to eat them to the point of groans and immobility! Thanks again for all your wonderful recipes.

 

Fantastic. I made the recipe as prescribed. I had made a Thai butternut squash soup and beef stew with mashed potatoes the day before. I used both of these for filling (of course not together) they turned out amazing. I froze them. The real test will be when my Lithuanian friend is over for dinner. I will try to report back on her opinion!

 

What can I say . This deserves 10 out of 5. I always had a lady make up Perogies for me but after seeing the great detailed instructions, decided to try this recipe. I will make my own perogies from here on in. I followed the recipe and will never change a thing. Thank you so much for the recipe and detailed instructions.

 
RECIPE SUBMITTED BY
I live in Burnaby, British Columbia. I am retired and have written a cookbook entitled, From Uncle Bill's Kitchen. I am a recipe developer, author, publisher, distributor and a chef. My cookbook is very unique as I have a Nutrient Analysis for each ingredient used in each recipe that shows you the values for Calories, Fat, Cholesterol and Sodium. A high-lighted bar shows the values on a per serving basis plus the Fat/Cal%. From Uncle Bill's Kitchen contains tried-and-true, tested, easy to follow reipes for both novice and experienced cooks. You'll find old Russian, Ukrainian, and other ethnic favorites, along with modern West Coast dishes. The Nutrient Analysis will please the health conscious. Uncle Bill's favorite recipes will reward efforts of the most creative cook and provide the family with many tantalizing, healthful meals. I have appeared on 48 various Television Shows in Vancouver, Burnaby, Kelowna and Kamploops, B.C. Canada, as well as in Palm Springs, CA. In Palm Springs, CA, I have been a Guest on the JACKIE OLDEN RADIO SHOW and THE JOEY ENGLISH RADIO SHOW, twice a year since 1998. I also do demo cooking shows at CHAPTERS BOOK STORES, SAVE-ON-FOOD STORES, GALLOWAY'S FOODS, WESTMINSTER PUBLIC QUAY MARKET, and in the U.S. at BARNES & NOBLE BOOKSTORES in Palm Springs, CA, Phoenix and Yuma, AZ. I was in Palm Springs, CA from June 10th to July 14th. 2002 and again appeared twice on the Jackie Olden Show, twice on the Joey English Show and pre-taped a TV COOKING SHOW with Jackie Olden that is aired on TV from Palm Springs, CA to Los Angeles, CA.
View Full Profile