Tender Eye of Round Beef Roast ATK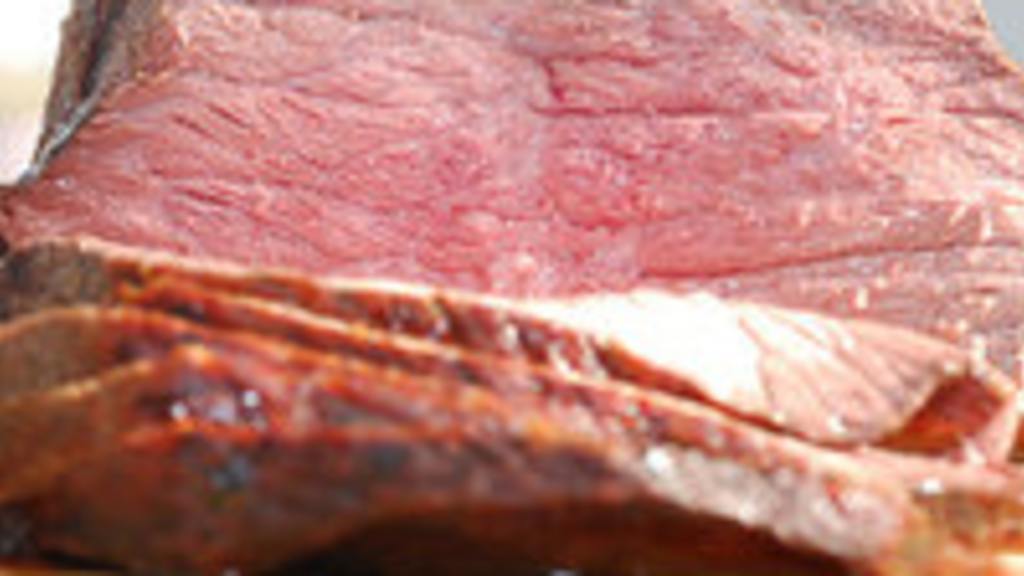 Ready In:

30hrs

Ingredients:

3

Serves:

6-8
directions
First day: Spread salt evenly over all sides of beef roast. Wrap in plastic and refrigerate 18 to 24 hours.
Second day (start this process 2 1/2 hours before you wish to serve): Preheat oven to 225 degrees F. Prepare shallow roasting pan with rack.
Unwrap roast, pat dry with paper towels. Rub vegetable oil over surface. Coat with 2 teaspoons ground pepper. Brown roast in a medium-hot skillet on all sides until dark brown, about 3 minutes per side.
Place on roasting rack. Place thermometer probe in the center of roast, insert from end.
Roast uncovered for about 1 hr 15 min to internal temperature of 115 degrees F. DO NOT OPEN OVEN DOOR. Turn oven off and leave roast in place for 30 to 50 minutes, until meat reaches 125 degrees internal temperature.
Remove from oven, place on board. Cover with foil, and allow to rest for 15 minutes before slicing. The roast will be pink and juicy in the center.
Join The Conversation
My eye of round is only two pounds. Costco cut a 4.5 pound roast in half (both are 3 1/2 inches thick and 7 inches long) and I'm freezing the second one. I am not sure if it is as thick as the one you are using or is mine just cut in half lengthwise. Should I adjust the cooking time? I don't have an oven probe thermometer (ordering one now) and can't test with my thermopen without opening oven.

NOTE to GAS OVEN users: Do NOT turn your oven off! I just pulled out of my gas oven, three 2.5 perfect medium-medium rare eye of round roasts. I followed the recipe with a few adjustments: rub room temperature meat generously with spices of your choice, coat well with olive oil, put on rack that keeps roast from touching the pan. Cook at 500 for 25 min., (NOTE CHANGE) reduce heat to 170 and cook for 2.5 hours. I did not use a meat thermometer. We prefer medium to medium well, but then the meat would have been shoe leather so we'll deal with the pink. I've wrapped them in foil, put them in the fridge and will slice super thin tomorrow. Can't wait!

This was the best eye round roast I've ever made! I added a tablespoon of garlic powder to the salt applied at the beginning of the process. Raised the cooking temperature to 275* and final internal temperature of meat to 130* (medium rare)...followed recipe after that.<br/>I can't say it again "THIS IS THE BEST ROAST BEEF" you'll ever eat.