Pierogi dough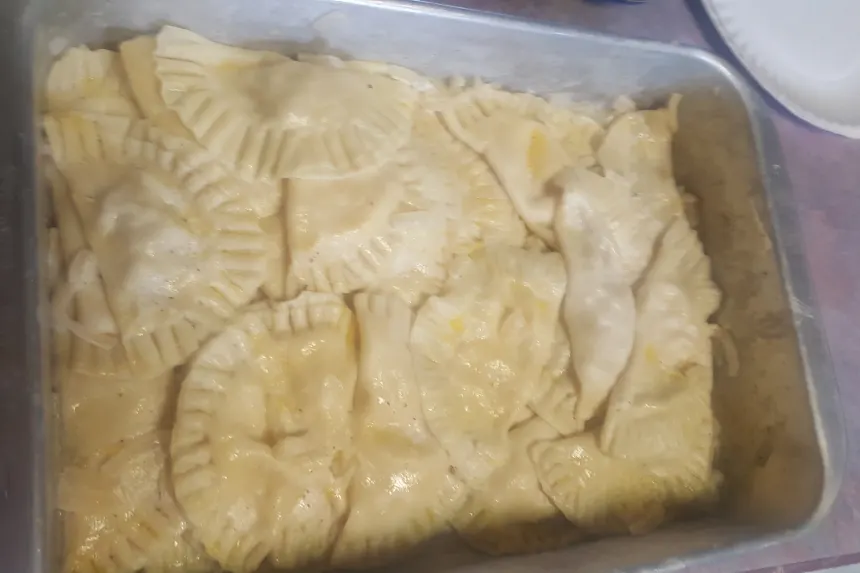 photo by cindy.v.mobile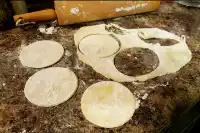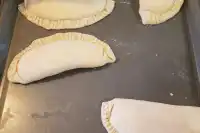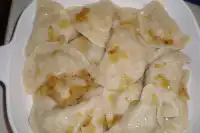 Ready In:

1hr 15mins

Ingredients:

5
directions
Mix all ingredients together lightly in bowl.
Knead until smooth.
Let rest, covered, 30 minutes.
Using half of the dough at a time, roll out to 1/8 inch thickness.
Cut circles with biscuit cutter or floured glass.
Fill with a golf-ball sized hunk of filling (described separately), pinch to seal.
Boil 5-8 minutes, until floating.
Fry in butter until crisp.
Questions & Replies

Reviews
From a 63 year old who could never ever get the dough right for pierogis, do not be afraid to try this recipe. The dough came out really well for me, but only after letting it sit for 30 min. In a covered bowl and then trying to roll it without muchluck and getting frustrated and refrigerating it overnight and the next day removing it from the refrigerator and also using a makeshift pastry board out of a pillow case which I slid over my cutting board and floured well and bingo after all my multiple failures to make the dough properly, it worked. Not sure if it was refrigerating the dough overnight or the pastry board which made it a success, but will surely do both from this day forward. The dough rolled wonderfully paper thin and I pinched them by first running my wet finger around the border and then pinching them after I first put them down on a kitchen towel so that they would not stick to anything. I did a dozen at a time on the towel and then boiled them and they were by far the very best!!!!! I have bought them locally from ukranian delis and these were far superior. So don't be afraid to try them and hoping that maybe refrigeration will also work for you. It did for me. Love, love this recipe and thanks for sharing it with the world. Who makes pierogis anymore except old ukie/polish girls whi work like soldiers and never give up!!!!!!!

 

I signed onto this site so I could write this review! I am 63, Lithuanian background and love to cook our good old ethnic recipes. This is without a doubt the best and easiest pierogi dough recipe I have used yet. I doubt I will ever bother trying another! I just ate 3 delicious pierogi's made an hour ago. I filled them simply with seasoned mashed potato. Delicious!

 

I tried this recipe along with a completely different recipe to see which batch would turn out better and more authentic according to my Polish husband. This recipe was the winner! It was much easier to make and work with than the other and the taste and texture were perfect!! I will definately use this recipe again, thank you!

 
Tweaks
If the dough is too sticky when combined per the recipe proportions, add 1 tsp. more flour in increments until it forms a ball when gently kneaded. If it's too dry and crumbly, add 1 tsp. warm water until it forms a smooth ball when gently kneaded. Remember flour measurements by cups are only guidelines, exact flour measurements are in grams, and flour should be spooned into the dry measure, not scooped out of the sack (resulting in too much flour due to packing). I had to add 3 tsp. flour extra. If I remember next time I make pierogi, I'll post the gram measurement.