Twix Bar Shortbread Cookies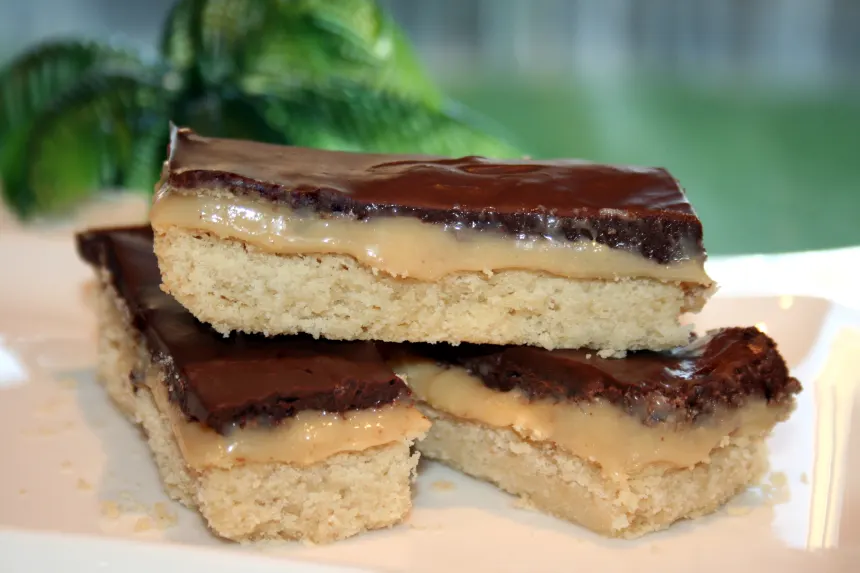 photo by Tinkerbell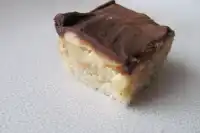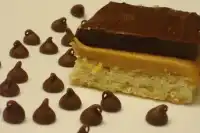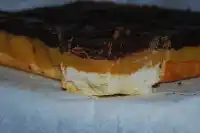 Ready In:

1hr 30mins

Ingredients:

8

Serves:

16
directions
SHORTBREAD:

Preheat oven 350 degrees. Grease with butter a 9x9" baking pan.
In bowl of electric mixer, cream the butter and sugar until light and fluffy. Beat in the vanilla extract. Add flour and salt and beat until the dough just comes together. Press onto the bottom of a greased pan. Bake about 20 minutes or until pale golden in color. Remove from oven and place on rack to cool.

CARAMEL FILLING:

Pour the can of sweetened condensed milk into a heatproof bowl and place bowl over a saucepan of simmering water. Cover and cook, over low heat, stirring occasionally, for 60 to 90 minutes or until the milk has thickened and has turned a caramel color. Remove from heat and beat until smooth. Pour the caramel over the baked shortbread and leave to set.
(Microwave method: Place sweetened condensed milk in a large microwaveable bowl and cook on medium power for about 4 minutes, stirring halfway through baking time. Reduce the power to medium-low and continue to cook for another 8 - 12 minutes, or until the milk has thickened and turned a light caramel color. Remove from microwave and beat until smooth).

TOPPING:

Melt chocolate and butter either in the microwave oven or in a heatproof bowl set over a saucepan of simmering water. Pour the melted chocolate evenly over the caramel and leave to set. Cut the shortbread in to pieces using a sharp knife.
Store cut bars in refrigerator to keep chocolate firm. Chilled chocolate doesn't cut clean.
Questions & Replies

Got a question?
Share it with the community!
Reviews
Boy did I mess up this recipe gailanng was great getting back to me and it seems my chocolate must have been bad as it kept seizing. So for the remainder of the recipe, EXCELLENT! I used the microwave method to do the caramel, the shortbread tasted wonderful, the chocolate was my enemy this time. I cannot believe I am saying this. With all that said, I did end up borrowing some chocolate from a neighbor who happened to call to check on me. I was so upset she brought some over from up the hill so I could finish this up. I then used the double boiler method for the chocolate and then it seemed to come together better. Taste wise it is not the candy bar but it is good! DH will be thrilled. Pictures to follow

 

These are really wonderful bars! Simple to make, too. I was a little worried about the microwaving of sweetened condensed milk, because of prior reviews, but found that following the tips given (use a large bowl, cook an extra two minutes, don't worry if it doesn't look perfect when it's done, whisk it and it will be perfect), worked perfectly! Also - score/mark the bars by sliding a knife through the chocolate layer once it sets, then chill - then the chocolate doesn't streak through the other layers when you cut through. Fantastic recipe, Gailanng - thanks for sharing it! Made for 1-2-3 Hits Tag.

 

This was a bit time consuming with all the layers and waiting for each to set or cool down but it was definitely worth it.. My son is going on the road with his basketball team so I wanted to make these for him to take for them all.. We did keep back a few for us to enjoy as well.. :) I well upped the recipe by just over 2 times the amounts listed and it worked a treat, I had to as there are 16 on the team and then the coach and 3 assistant coaches.. I wanted them to have at least 2 each for there long trip, 19 hours on a bus never fun.. The shortbread recipe is wonderful and works so well, my son was very impressed that I had made that from scratch.. I failed to tell him how easy it was.. :) I used 3 cans of condensed milk and used the microwave method, had to up the time obviously because of the extra but it worked a treat.. I then used a mixture of semi sweet and milk chocolate for the top.. I put the final product in the fridge to half firm up and then like a previous reviewer had suggested I scored through the chocolate part, placed it all back in the fridge to set completely and cut once set.. The scoring works great as the chocolate cuts evenly and everything is set so well that the knife glides through the rest with ease.. Will have to let you know what the team thought tomorrow as that is when they hit the road. As far as our family goes they have been very much enjoyed and we all agree on a super recipe that is worth every bit of the 5 stars and coming from my son who is usually the toughest marker on the stars that really says something.. Thanks for sharing.......... Update: Son was supposed to call from the road but alas NO! only heard from him when he got back in town today, the scamp... All the team loved these and I mean loved these. So now this recipe has really been reviewed by about 25 people who all said Yum! Yum! and Yum! So I think now we can say from us and a whole basketball team your recipe scored!!!!!!!!!!!

 

Yum! Turned out easier than I expected in the microwave. I did need to cook the filling an extra 2 minutes, I thought perhaps I'd ruined it by the way it looked, but when I whipped it all the lumps disappeared and it became a wonderful smooth caramel. Sticky though! It needs to be sticky to hold on to the slightly crumbly biscuit base. But they are more similar to a Twix than I expected! Thanks!!

 
RECIPE SUBMITTED BY
I'm just me, mother, grandmother...friend to many and a Louisianian. My Cajun and French Quarter Italian descent afforded me exposure to some of the best of foods. My passions are my family, decorating, cooking and gardening. Those very passions push me into constant awareness with always looking for something new to delight the senses, thus my favorite idiom...Inspire me, puuuullllllleeeeeeease! ...and I mean it, too. God Bless America!
View Full Profile