Turkey (Or Chicken) Meatballs With Sweet Chili Sauce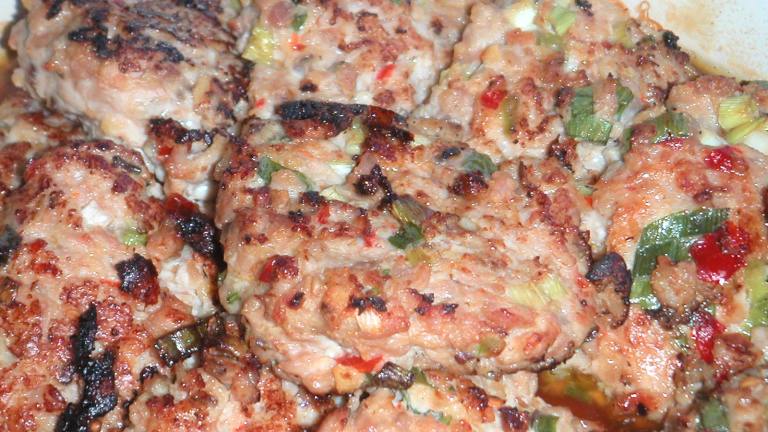 This recipe is something I make often for my toddler who has allergies, so quick and easy! It doesn't require eggs like most meatballs. When making it for my son, I use the smaller amounts of sweet chili and green onion. I also use homemade bread crumbs from French bread, because of his allergies.I have even skipped the breadcrumbs completely and it worked. We make it as a snack or serve with rice and veggies for dinner. This recipe can be frozen. It easily doubles if you want to take it to a potluck or serve as an appy at a party. Serve with a side of sweet chili sauce to dip, or ketchup for crazy kids like my DS. ;)
Ready In:

35mins

Yields:

Units:
directions
Combine all ingredients together.
In a pan lightly oiled (I use Pam), fry over medium heat until completely brown, about 5-10 minutes.
Bake in a preheated 350* oven until cooked through, about 15 minutes.
You can also cook them completely in the fry pan.
This recipe makes about 30 average size meatballs.
Adjust amount of Sweet Chili sauce and bread crumbs if it appears too dry or wet, but these amounts work perfectly for us.
You can combine all ingredients and refridge overnight then cook as normal, for a spicier flavor.
For OAMC - Flash freeze on a cookie sheet until frozen. Place in a ziploc bag once frozen. Heat in Micro for 45-60 seconds, depending on the size of meatball. I'm sure it can be reheated in the oven, but I haven't tried it yet.
Submit a Recipe Correction
RECIPE MADE WITH LOVE BY
"This recipe is something I make often for my toddler who has allergies, so quick and easy! It doesn't require eggs like most meatballs. When making it for my son, I use the smaller amounts of sweet chili and green onion. I also use homemade bread crumbs from French bread, because of his allergies.I have even skipped the breadcrumbs completely and it worked. We make it as a snack or serve with rice and veggies for dinner. This recipe can be frozen. It easily doubles if you want to take it to a potluck or serve as an appy at a party. Serve with a side of sweet chili sauce to dip, or ketchup for crazy kids like my DS. ;)"
This is a wonderful basic recipe. It's perfect for young'uns and anyone with egg allergies. I prefer a little more kick, so in future I'd add some chopped fresh chili, garlic and coriander. I made these into patties and finished them in the oven. So easy, so tasty. Made for Green, Eggs and Ham Tag Game.

This recipe is something I make often for my toddler who has allergies, so quick and easy! It doesn't require eggs like most meatballs. When making it for my son, I use the smaller amounts of sweet chili and green onion. I also use homemade bread crumbs from French bread, because of his allergies.I have even skipped the breadcrumbs completely and it worked. We make it as a snack or serve with rice and veggies for dinner. This recipe can be frozen. It easily doubles if you want to take it to a potluck or serve as an appy at a party. Serve with a side of sweet chili sauce to dip, or ketchup for crazy kids like my DS. ;)