Traditional Irish Stew With Pearl Barley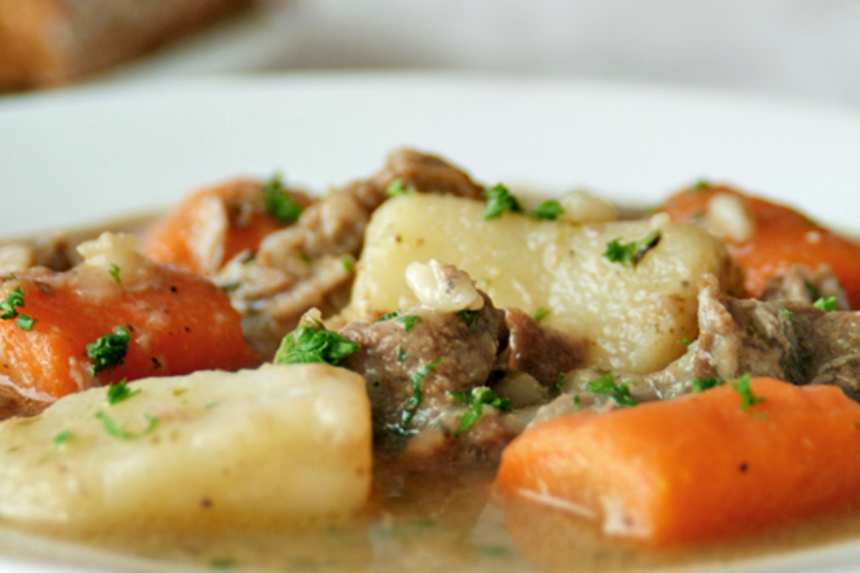 photo by AaliyahsAaronsMum

Ready In:

2hrs 30mins

Ingredients:

11
directions
Start off by trimming and cutting away excess fat off the meat.
Pat the pieces dry and in a bowl toss them with flour.
In a heavy-based saucepan, over high heat, heat 2 tbsp olive oil and brown the meat pieces in small batches and then remove and set aside in a bowl.
In the same saucepan, over medium heat add in the rest of the olive oil and add in the chopped onions, garlic and bay leaves and saute till translucent, takes about 10 minutes.
Return the browned meat pieces to the pot and add in the dried thyme and give it all a good stir.
Sprinkle pearl barley on top and pour in all of the stock and season with salt and pepper.
Increase the heat and bring it to a simmering point.
Spoon off any scum that rises to the surface, then cover the pan with a well-fitting lid and leave to simmer over a low heat for an hour, stirring occasionally.
After the hour is up, spoon off scum if any and then add in the potatoes and carrots and give all a good stir and leave it cook for another hour.
Carefully stir in 2 tbsp of chopped parsley and take it off heat.
Garnish with the remaining 1 tbsp of chopped parsley and serve!
Questions & Replies

Got a question?
Share it with the community!
Reviews
We had this for dinner tonight, and thought it was an ok dish. There was nothing in particular I did not like about it, but I would probably double the herbs as well as add some salt and pepper for a bit more flavor in the broth. I think we may have liked it better if I'd have saved it for a cold day, but with spring coming in to full swing here I don't think it is likely we will be getting another of those anytime soon. We will definately make again, but will likely save it til the fall. Reviewed for PAC Spring 2008.

 
RECIPE SUBMITTED BY
<p style=margin: 0.0px 0.0px 0.0px 0.0px; font: 12.0px Helvetica;><span style=font-family: Arial, Helvetica, sans-serif; font-size: 13px;><img src=file:///Users/aishayusaf/Library/Caches/TemporaryItems/moz-screenshot.png alt= /><img src=http://i166.photobucket.com/albums/u82/aaliyahsmum_album/bill3.jpg alt= width=402 height=507 /></span></p> <p><img src=http://i166.photobucket.com/albums/u82/aaliyahsmum_album/Untitled-11.jpg alt= /><br />Today, give a stranger one of your smiles. <br />It might be the only sunshine he sees all day. <br />- H. Jackson Brown, Jr. <img src=http://i166.photobucket.com/albums/u82/aaliyahsmum_album/images.jpg alt= /> <br /> <img src=http://i166.photobucket.com/albums/u82/aaliyahsmum_album/Untitled-11.jpg alt= /> <br /> <br />For a hobby, I'm into photography. I thoroughly enjoy baking, but have to admit, I have two left hands when it comes to decorating cakes! I also do a bit of knitting (beginner's stage) and reading. Stephen King and Dean Koontz are my all time favourite authors, and, of course, LOVE Calvin and Hobbes (does it show??!!) <br /> <br /> <img src=http://i166.photobucket.com/albums/u82/aaliyahsmum_album/chch-atheist.gif alt= /> <br /> <br /> <img src=http://i166.photobucket.com/albums/u82/aaliyahsmum_album/Untitled-1-1.jpg alt= /></p> <p>I search for recipes that carry ingredients I can get hold of locally (or I have stocked in my cupboard!). Recipes I have posted are ALL tried and tested and have been enjoyed by all! So, I hope you and your family will enjoy as well! <br /> <br />My rating system is fairly simple. Since I only pick recipes that I know my family will enjoy (looking at the list of ingredients), it's either 5 or 4 stars, I do not go any lower. I may sometimes do a bit of tweaking but that is only due to my family's tastes. If I do have problems with a recipe or if it didn't turn out the way it should have done, then I just leave a comment without any rating. <br /> <br /><img src=http://i166.photobucket.com/albums/u82/aaliyahsmum_album/Untitled-12.jpg alt= /></p>
View Full Profile