The Chocolate Mousse Cake That Fell from Heaven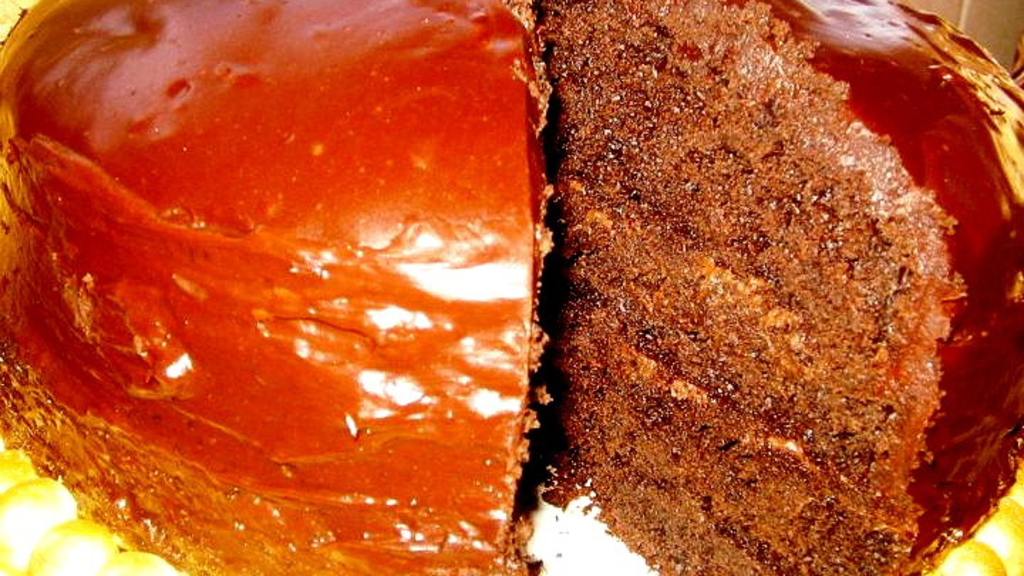 Ready In:

2hrs 15mins

Ingredients:

22
ingredients
Cake filling

1 1⁄2 cups milk, full-cream
1⁄2

cup superfine sugar

3 1⁄2 tablespoons cornflour (known as Maizena in S A)

5

large egg yolks

7

ounces milk chocolate, chopped up (good quality, 200g)

1

tablespoon butter

1

teaspoon vanilla

Cake layers

3

ounces chocolate, top quality (pref at least 70% cocoa butter, try Callebaut, Cote d'Or or Lindt, )
1 1⁄2

cups hot strong coffee (very good instant will do, best is brewed coffee)

3

cups superfine sugar (caster sugar)

2 1⁄2 cups all-purpose flour or 2 1/2 cups cake flour
1 1⁄2 cups cocoa powder (any kind)

6

teaspoons baking powder (not soda)
1 1⁄2 teaspoons salt

3

large eggs
3⁄4

cup vegetable oil

1 1⁄2 cups buttermilk, well shaken

1

teaspoon vanilla

Ganache topping

1⁄2 cup fresh heavy cream

10

ounces chocolate, semisweet, high quality

1

tablespoon corn syrup (I use 20 ml golden syrup)

2

tablespoons butter
directions
Make the filling first, as it needs to cool and thicken.
Bring the milk to boiling point in a medium saucepan with thick bottom.
In a large mixing bowl, mix the sugar and cornflour well together. When the milk threatens to boil, pull from the heat.
Whisk (use electric beater) the egg yolks into the sugar. Add the hot milk gradually to the sugar-cornflour-yolk mixture, whisking well between additions.
Scrape this mixture back into the pot you heated the milk in, using a spatula. Over medium heat whisk with a wire whisk until it thickens -- JUST below boiling point. If it boils, the egg will cook -- be careful.
Pull of heat and keep on whisking so the bottom does not go on cooking! Add the chopped chocolate, butter and vanilla, and whisk until mixture is smooth and even. If there are small lumps, push the whole lot through a sieve into a bowl, or whizz in a food processor.
Pour into a suitable bowl and put wax paper directly on the surface to prevent a skin forming. Cover with a clean cloth, let cool, and then put into fridge until cold and quite thick.
(You can hasten the process by putting it in a freezer, but be very careful it doesn't start to freeze!).

Making the cake layers:

Preheat oven to 325 deg F/ 160 deg Celsius.
You need 2 10 x 2 inch cake pans. Grease well with butter, and line bottoms with wax or baking paper, and grease the paper rounds as well.
Make the coffee, and chop the chocolate into small pieces. Add the chocolate to the hot coffee. Let it stand, stirring occasionally, until chocolate is melted and mixture is smooth.
Sift in a large bowl: sugar, flour, cocoa powder, baking powder and salt.
In another bowl beat the eggs until thickened slightly, and lemon-coloured.
Slowly add the oil, buttermilk, vanilla and melted chocolate mixture to the eggs, beating until combined well.
Now add the dry mixture, and beat on medium speed until just combined well -- do not overmix at all.
Divide the batter between the prepared pans. Tap the pans firmly on your counter to get rid of some air bubbles.
Bake in the middle of the oven for about 1 hour 15 minutes, or until a skewer inserted in the centre comes out clean. Check after 1 hour, but do NOT open the oven before an hour is up!
Cool the layers in the cake pans on a rack. When completely cool run a sharp knife around the edges, then carefully invert the layers on to racks.
The layers can be made 1 - 2 days before you need the cake, cooled, wrapped in plastic wrap and kept at room temperature.
* A note about baking agents and baking time: this is always iffy. I'm at sea level, and the 6 t baking powder works for me. If you are at a high altitude, you may have to use less. Ovens differ as well, therefore it's best to test layers for doneness after 1 hour, but not before, to prevent them sinking in the middle as the oven heat drops and a draught gets inches.

The ganache topping:

Chop up the chocolate, and bring the cream to simmering point in a small saucepan. Keep heat very gentle. Add the chocolate and pull off heat. Stir gently until chocolate has melted, and also stir in the syrup and butter.
Cool to lukewarm, NOT cold -- you want a still-runny mixture. Test with a spoon. Too warm, and it will run off the cake. Too cold, and it might be difficult to spread evenly.

Finish the cake:

Cut each cake layer in two with the help of strong cotton thread or dental floss. Be very careful, because this cake is soft and moist.
Place one half on a suitable cake plate. To catch mess and drips of ganace, push wide strips of wax paper under the edge of this layer.
Spread one-third of the filling on this layer, and top with next layer. Repeat. Add the last layer and make sure the cake is straight and not listing like the Tower of Pisa.
Pour the lukewarm ganache over the top layer, and cover the sides of the cake with the ganache. Use a knife or spatula. Put cake in fridge to firm.
After about 2 hours the ganache should have stopped dripping. Remove the wax strips carefully.
Remember: the cake improves in the next two days, at room temperature, but whether it'll last that long is another question!
Join The Conversation
Hi everyone ! <br/><br/>I had a request from someone for a Chocolate Mousse Cake. Who to call for a fabulous recipe ? My creative Aunt Zurie of course !! Yes, she is my beloved aunt and she shared her recipe with me. What a pleasure to make this cake. In my opinion it is virtually flop-proof ! It was my first time ever making mousse as well as ganashe and I had no trouble at all.<br/><br/>I am proud to say that the picture that has been added recently is my actual cake ! Easy and absolutely delish !<br/><br/>When looking at the recipe it looks long and difficult. Not at all. Do try it. You will be glad you did ! xxx

 

I am not going to rate this recipe since I am not sure where I went wrong. Taste alone, this recipe is worth 10 stars! Everything was going well. My filling turned out right without any lumps, the cakes were perfectly baked. I was very careful in slicing them in half, no mishaps there. It was at the layering stage that went down (literally). I was pouring the ganache when it fell apart! The top layer first split, cracked right in the middle and then the 2nd layer. It literally was falling apart in front of my eyes. My DD's reaction, "Oh dear!" My reaction would have been different had she not been standing there in front of me! I gathered up the two cracked layers and piled onto another plate. Well, at least I still had 2 layers intact!! And the good news is, NOTHING got binned!! I don't know where I went wrong since I followed the recipe as is. I'm sure the cakes didn't split when I was slicing them or layering them. I used instant coffee since none of us are coffee drinkers, cake flour, dutch processed cocoa powder and Lindt chocolate. I don't know if I should have reduced the baking powder? I would love to make this again even though it is time consuming than the rest of the cakes I've made so far, and it's worth the effort. I tried some this afternoon, and yes, it does taste better the next day. It's very moist and ohh so chocolatey! Definitely a slice of heaven on your plate!

 
RECIPE SUBMITTED BY
I'm a widow, retired, and I love cooking. I live on the coast in South Africa and I love seafood. You're welcome to my recipes (all kinds, definitely not just seafood!) Just remember that no recipe is ever cast in stone -- adjust to your taste! The photo was taken at a rustic seaside restaurant on our West Coast, approx 1 year ago (2016).
View Full Profile