Stuffed Avocados With Suiza Sauce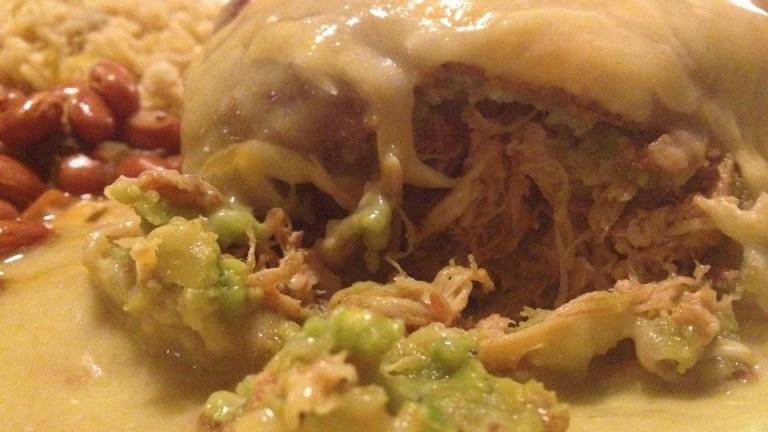 Flavorful shredded chicken is coated in avocado, then panko breadcrumbs, then fried and smothered in a creamy verde sauce and cheese. A little labor intensive, but soooo worth it! Tastes a heck of a lot like Trudy's famous stuffed avocados in Austin, Texas.
Ready In:

2hrs 5mins

Serves:

Yields:

Units:
directions
Combine the chicken thighs, rotel, bouillon cube, water and taco seasoning in a deep pan. Heat to boiling, then cover and reduce heat. Cook for 1 hour, stirring occasionally to break up the chunks of chicken and "shred" them. After 1 hour, remove lid and continue to simmer and stir to shred chicken until all the liquid has cooked down.
Allow chicken mixture to cool completely (I put mine in the freezer to speed up the process). This recipe is for 2 stuffed avocado patties, there will be plenty of leftover chicken though (I use it for burrito and taco filling, or in burrito bowls, yum!).
Portion out 2 patties of chicken, (as big or small as you'd like, but I made mine about 2 large handfuls worth).
Mash the two avocados, (and this is the messy part) and put a coating of mashed avocados on top of each patty. Place in the freezer to harden for a few minutes.
Remove hardened patties from the freezer and turn over. Put a coating of mashed avocados on the other side of the patty.
Heat vegetable oil to medium high heat in a deep frying pan.
Carefully roll the avocado coated chicken patties in flour until well coated and try to shape them into perfectly round shapes.
Combine the egg and buttermilk in a bowl and whisk thoroughly.
Carefully dip (or pat on, as I did) the buttermilk mixture onto the patties.
Dip the battered patties into the panko crumbs until thoroughly coated.
Carefully place the breaded patties into the hot oil and fry both sides until golden brown (about 2 minutes or so per side, but keep an eye on them- they cook fast!). Remove and transfer to a paper towel lined plate.
Combine the verde enchilada sauce and the sour cream thoroughly in a microwave safe bowl and heat for about 2 minutes, or until heated through.
Pour a generous amount of the verde sauce over the patties and top with shredded cheese. Don't worry, the patties will still stay pretty crispy.
Serve with borracho beans and green chili rice (from this site) and enjoy!
Submit a Recipe Correction
Finally! Someone has come really close to nailing the Trudy's delicious stuffed avocado.Pretty much every "Trudy's" recipe online gets the method dead wrong, instructing you to fill the hole made by the seed! If Trudy's did that, they'd either have to be HUGE avocados or they could only sell it as an appetizer. <br/>I made this recipe for two people, both native Texans, who have dined at Trudy's many times. They said everything was right on the money, except for POSSIBLY the need for a little more seasoning of the chicken. But that is as likely to be my error as it is the recipe's. Personally, my only criticism of this recipe is the prep time listed. If you want to get this dish right (and trust me, you do!) you'll need to devote three hours to it, which includes the cooling time for the chicken and then the patties. But that's a tiny gripe...overall this recipe is fantastic!