South African Sausage (Boerewors)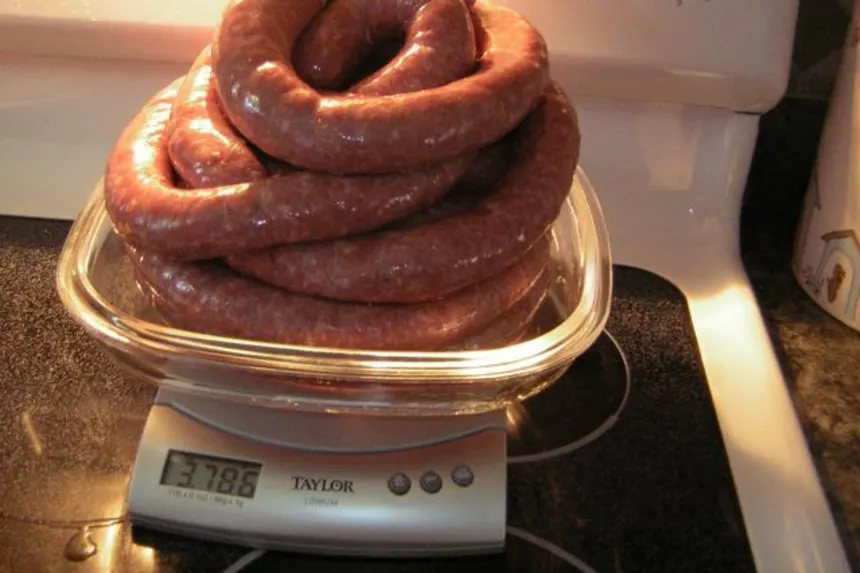 photo by Iluv2cook59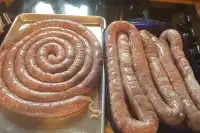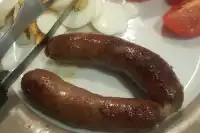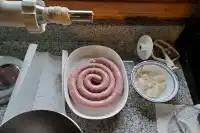 Ready In:

1hr 15mins

Ingredients:

11
directions
Skip the first few steps if you are using ground beef and pork.
Prepare beef and pork by trimming off all sinew, and other nasty bits and pieces that may affect the texture.
To facilitate mincing, cut meat into long, narrow strips about 3 inch in diameter and freeze for about 30 minutes.
Mince meat through a course mincer for a rough texture, or finely if you prefer.
Allow the meat to be fed through with very little assistance from the tamper.
Finish off by mincing a piece of bread to remove every vestige of meat from the mincer.
Roast coriander and cloves in a dry frying pan, tossing the spices about until uniformly brown and aromatic.
Don't allow to burn.
Grind spices with a pestle and mortar, sift to remove husks, mix with remaining spices and sugar and sprinkle over the mince.
Lightly mix in wine or vinegar.
Drain the casings and place over one end of the filling horn (I use the kitchen aid attachment and carefully push all of the casings on leaving a 3 inch length hanging down).
Tie a knot in this.
Grabbing hold of a second pair of hands at this point makes wors-making less traumatic.
You can then feed the mixture in while your assistant hold the casings, guiding the filling inches.
Feed the mixture into the mincer a little at a time, while securing the casing with a gentle pressure of one hand on the horn to control the unrolling of the casing as its filled.
Mould the sausage with your hand to make it uniformly thick.
Don't pack the casings too full, or the wors will burst while cooking, but try to avoid air bubbles.
After the casing has been filled, remove it – still attached to the horn – from the machine.
Push any remaining filling into the casing and tie a knot in the end.
BBQ quickly over hot coals.
The skin should be crisp and the middle just pink.
Serve immediately.
Questions & Replies

In American is it: 2 ml = 1/2 teaspoon ?, 5 ml = 1 teaspoon ?, 15 ml = 1 Tablespoon ?, 30 ml = 1 ounce measuring cup = 2 Tablespoons, 90 gram = 3 ounces (weight) ? , Mincer = meat grinder ?, Cut meat into 3 inch long strips ?, the mince = the ground meat ? , mix dry and wet ingredients with the meat ?, Place horn on meat grinder... ? , As the casing fills can you spin it every 4 - 5 inches to make a bunch of sausages German knockworst or bratworst style ? , This is a wonderful recipe!

 
Reviews
I made this recipe, with a total 1 kilo of meat, in the form of meatballs and then pan fried them, and served them over brown basmati rice. I omitted the sugar, and used a food processor to mix the meat and spices, as well as 2 teaspoons of balsamic vinegar. The flavour was delicious - these were exactly the right spices. Balanced, so that you could taste all of them, but not overwhelming. I am South African and loved them, and my husband who isn't also really enjoyed them.

 

Fabulous recipe. I used red wine vinegar and used 2kg pork shoulder and 1kg brisket very successfully here. I also forgot to toast the cloves and coriander before grinding but the spice turned out really well in spite of that. Pic shows one of several coils I made, used hog casings; some on the horn and some still soaking. Fabulous taste and texture.

 
RECIPE SUBMITTED BY
My wife and I have 3 kids and own a toy company - www.marveloustoys.com I love to cook and even threw an Iron Chef themed party!
View Full Profile