Soft Gingerbread Biscotti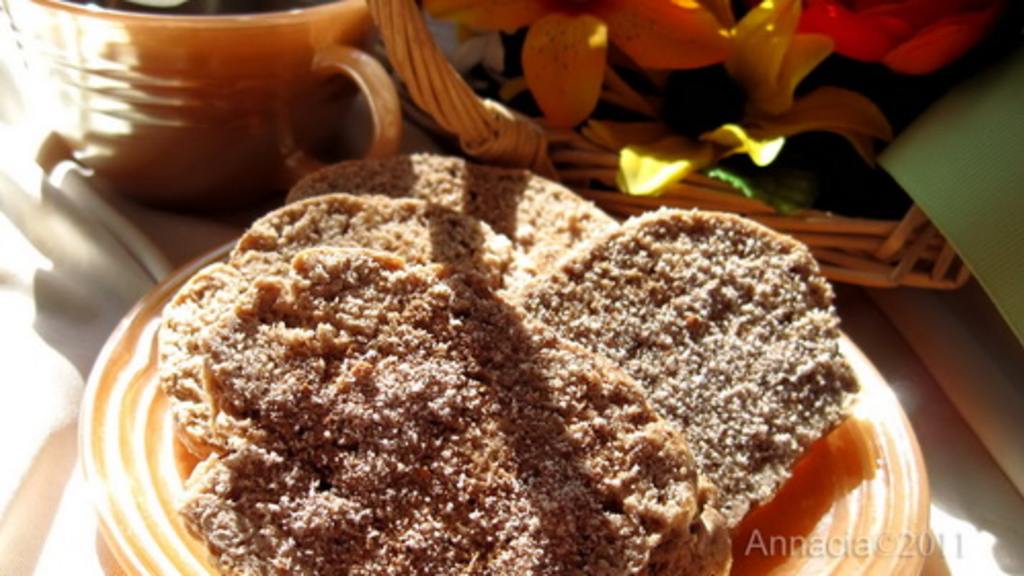 Ready In:

1hr 15mins

Ingredients:

13

Serves:

30
directions
Position a rack in the middle of the oven & preheat the oven to 350 degrees F. Line a large baking sheet with parchment paper.
In a large bowl, whisk together the flour, baking powder, salt, just 2 teaspoons of the ginger & 2 teaspoons of the cinnamon, as well as the cloves, the 3/4 cup of granulated sugar & all of the brown sugar.
In a medium bowl, whisk together the eggs, butter & vanilla extract, then pour this egg mixture into the flour mixture, stirring with a wooden spoon until dough comes together in a soft & slightly sticky mass.
Turn dough out onto a lightly floured work surface & knead several times until smooth.
Divide dough in half, then shape each piece into a log about 8 inches long & 2 inches wide before setting each log some 3 inches apart on the prepared baking sheet.
In a small bowl, stir together the remaining 1 teaspoon of ginger, 1 teaspoon of cinnamon & the 3 tablespoons of granulated sugar. Brush the logs with the egg white & sprinkle each log with 1/3 of the spiced sugar mixture.
Bake logs 25 to 30 minutes or until they are puffed & golden brown, then set the baking sheet on a wire rack to cool for 10 minutes.
Reduce oven temperature to 300 degrees F, then using a serrated knife, cut each log into 1/2-inch-slices (about 15 each).
Arrange the biscotti, flat-side down, on the baking sheet & sprinkle with another 1/3 of the sugar mixture, then bake for 6 minutes or until biscotti are light golden brown.
Turn the biscotti over, sprinkle with the remaining sugar mixture & bake another 6 minutes.
Cool biscotti on the baking sheet set on a wire rack for 5 minutes before removing them to the rack to cool completely.
Store in an airtight container or in a zip-lock bag for up to 4 days.
Join The Conversation
These are so delicious! I absolutely loved the easy of preparation and the wonderful flavour! I do think it would be stunning to drizzle them with something (simple white icing with cinnamon in it, or chocolate... or melt down cinnamon chips?) I think pecans and/or crystalized ginger would be great additions, too. They're absoluely perfect as they are, don't get me wrong, this is just one of those recipes that get the creative part of me thinking! Thanks for posting this awesome recipe, Syd! Made for PRMR Tag.