Holiday Gingerbread Biscotti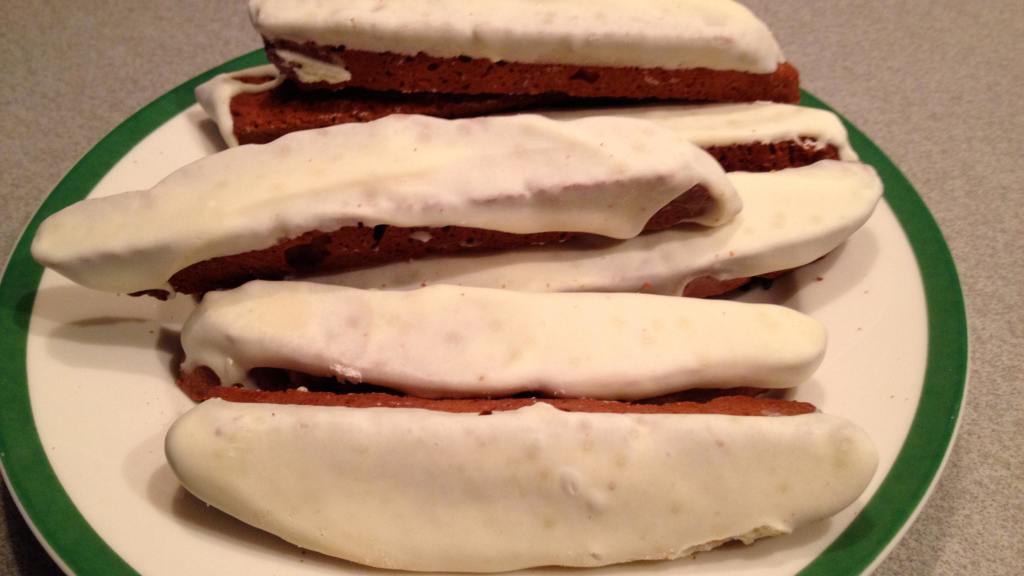 Ready In:

1hr 20mins

Ingredients:

12
directions
Preheat oven to 350°.
Place almonds into a 8 or 9-inch square pan; bake until golden, 10-15 minutes. Let cool.
Coarsely chop almonds, set aside for now.
In large bowl, using electric mixer, beat sugar, butter, molasses and ginger until smooth.
Add eggs, one at a time, beating after each addition.
In a bowl, stir flour, baking powder, cinnamon, nutmeg, cloves, allspice and the almonds.
Add into the egg mixture; stir to blend.
On 2 greased 12x15-inch baking sheets with floured hands, pat dough into 4 flat loaves.
Space evenly on sheets; each loaf about 1/2-inch thick, 2 inches wide and the length of the baking sheet.
Bake until browned at edges and springy to the touch, about 25 minutes. Switch positions of pans halfway through baking.
Let loaves stand on sheets until cool enough to touch, then cut into long, 1/2-inch thick diagonal slices.
On baking sheets, arrange slices close together with cut side down.
Return to oven bake 15 to 18 minutes longer; switch positions of pans halfway through baking.
Join The Conversation
I've made these for many years and they are very popular. I dip them in melted white chocolate after they have cooled to make them pretty and even more delicious. I have no idea how much ginger is in 4 pieces but I use about 1/2 cup of finely chopped candied ginger. In my oven it helps to bake them one sheet at a time because otherwise they get quite dark on the bottom during the first bake. I also think they are better if baked at 325 for a few minutes longer than suggested instead of 350 in my oven. They keep for ages in an airtight container. They are a must for our holiday celebrations. Addictive with a cup of tea or coffee.