Scallion Wild Rice Crepes, Mushroom Filled W/ Red Pepper Sauce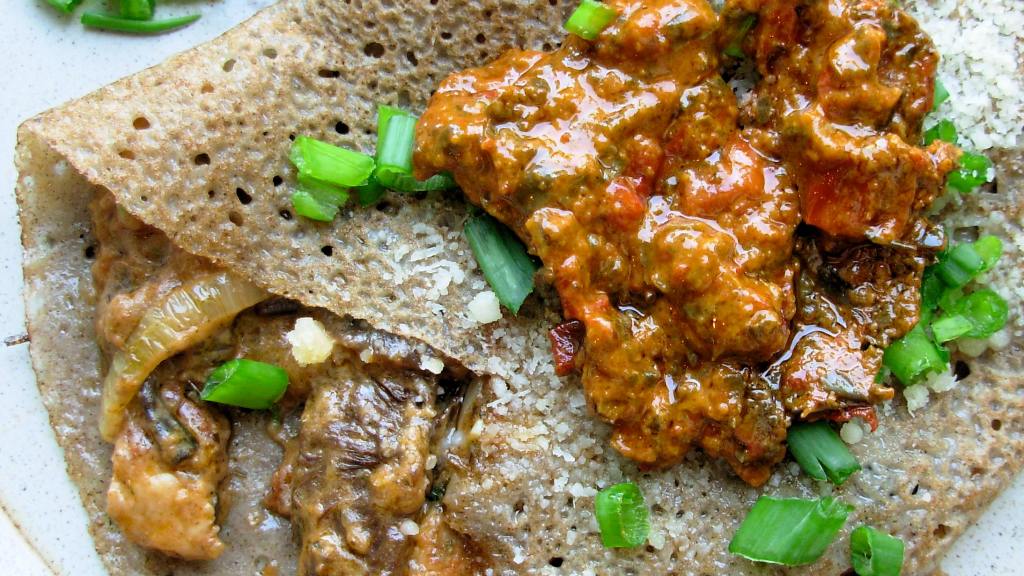 Ready In:

2hrs 15mins

Ingredients:

24

Serves:

6
directions
Make crêpe batter:

Bring 4 cups water to a boil in a 2-quart heavy saucepan, then add rice and 1/2 teaspoon salt. Reduce heat and cook, covered, over low heat until rice is tender and grains are split open, 1 to 1 1/4 hours (not all liquid will be absorbed). Drain well in a colander and cool to warm.
Blend together milk, eggs, 3 tablespoons butter, flour, pepper, remaining teaspoon salt, and 1 cup cooked wild rice in a blender until smooth, about 1 minute. Transfer to a large bowl and stir in scallions and 1 1/2 cups cooked wild rice (reserve remainder for another use). Let batter stand, covered, at room temperature 1 hour.

Make sauce while rice cooks:

Roast bell peppers on racks of gas burners over high heat, turning with tongs, until skins are blackened, 10 to 12 minutes. (Or broil peppers on a broiler pan about 5 inches from heat, turning occasionally, about 15 minutes.) Transfer to a large bowl and cover tightly with plastic wrap, then let stand 20 minutes.
When cool enough to handle, peel peppers, discarding stems and seeds, and coarsely chop.
Purée peppers with water, oil, vinegar, and salt in cleaned blender until smooth. Season with pepper and pour into a small heavy saucepan.

Make filling while batter stands:

Soak porcini in boiling-hot water in a small bowl until softened, about 20 minutes. Lift porcini out, squeezing liquid back into bowl, then rinse porcini (to remove any grit) and finely chop. Pour soaking liquid through a sieve lined with a dampened paper towel into another small bowl.
Heat oil and 1 tablespoon butter in a 12- to 13-inch nonstick skillet over moderately high heat until foam subsides, then sauté porcini and cremini mushrooms, tossing with 2 wooden spatulas or spoons, until wilted and any liquid mushrooms give off is evaporated, 3 to 5 minutes. Add garlic, rosemary, thyme, salt, and remaining tablespoon butter and sauté, stirring, 1 minute. Add porcini soaking liquid and boil until most of liquid is evaporated and mushrooms are tender, 3 to 5 minutes. Season with salt and pepper.

Cook and assemble crêpes:

Line a plate with 1 square of wax paper. Heat crêpe pan over moderate heat until hot, then brush lightly with some melted butter. Spoon about 1/3 cup batter into pan, tilting and rotating to coat bottom. (If batter sets before skillet is coated, reduce heat slightly for next crêpe.) Cook until underside is lightly browned, about 1 minute, then loosen crêpe with a heatproof plastic spatula and flip over with your fingers. Cook crêpe until other side is lightly browned, about 1 minute, and transfer to wax-paper-lined plate. Top crêpe with another square of wax paper. Make more crêpes with remaining batter, brushing pan lightly with butter as needed. (You will have extra crêpes.).
Preheat oven to 400°F.
Brush some melted butter on bottom of a large shallow baking pan (1 inch deep). Spread 1/4 cup filling centered over half of 1 crêpe, then fold other half over filling to form a half-moon. Fold half-moon in thirds, overlapping outer sections (making a cone shape), and transfer to baking pan. Repeat procedure with 11 more crêpes, arranging in 1 layer in baking pan.
Brush crêpes generously with remaining melted butter and bake in upper third of oven until outsides are crisp and filling is heated through, about 15 minutes.
While crêpes are baking, heat sauce over low heat until hot, about 5 minutes.
Put sauce on each of 6 plates and top with 2 crêpes.

Cooks' notes:

Wild rice can be cooked 2 days ahead and cooled, uncovered, then chilled, covered.
Red pepper sauce can be made 2 days ahead and chilled, covered.
Filling can be made 1 day ahead and cooled, uncovered, then chilled, covered.
Crêpes can be made and filled 1 day ahead and chilled, wrapped in foil. Brush with melted butter just before baking.
Join The Conversation
Absolutely delicious and although time consuming, the time was worth the taste of these delicious crepes! We can get great crepes in France, and these were as good as any I could get in any local creperie restaurant. I made the mushroom filling and red pepper sauce beforehand and then stuffed the crepes as I made them, keeping them warm in an oven. We ate these with salad and had two each! I had to make a small sub, no wild rice, so used buckwheat instead in the crepes! Made for the Veg'N'Swap event in the Veggie Forum and the Chives and Spring Onions event in the French forum. Merci! FT:-)

 

From Gourmet Magazine (November 2002) these savory crepes are the perfect vegetarian entree for a fancy dinner party. Each component can be made 2-days ahead, then assembled at the last minute. Not difficult to make, but there are a lot of steps. The result is worth the effort! Recipe by Shelly Wiseman. (Can substitute jarred roasted red peppers. And green onions are the same as a scallion...) Edited to add: Sauted portabello strips can completely replace all the fussiness with the dried mushrooms. I also served this with creamed spinach in place of the red pepper sauce. Just depends on what color looks best to you.

 
RECIPE SUBMITTED BY
I'm a recipe junkie and collect way too many cookbooks. But when it's time to actually make something, I quickly turn to the internet... I started avoiding meat more than 20 years ago for environmental reasons. (It takes so many resources and the pollution risks of confinement operations are huge.) I've been vegan for years now and can report that the health benefits are also real. I really don't understand why people insist on eating meat
View Full Profile