Pizza Hut Dessert Pizza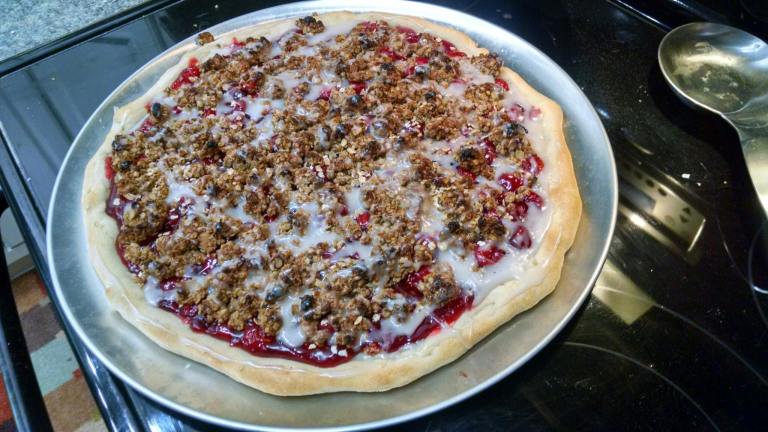 Ready In:

12hrs 15mins

Serves:

Units:
directions
Combine all crust ingredients in a mixer and knead for 10 minutes. Place in a large bowl, cover the bowl with plastic wrap and allow to ferment as long as possible (12 to 24 hours).
Punch down dough now and then when you get a chance.
Preheat oven to 550 degrees F.
Roll the dough as thin as desired. Roll, flour, flip and repeat until you end up with a shape equal to 90% the size of your pan, as it will stretch when you transfer the dough. Place dough on pizza stone or in pan. Brush with vegetable oil and prick with fork. Pre-bake for 3 minutes.
Remove from the oven and spread with cherry, blueberry or apple pie filling. If you want whole pieces of fruit with a thick topping, you will need 1 whole large can, otherwise you will need to purée half the filling if you want a thinner topping. After you have spread on the filling, you put on the crumb topping. Mix well with a fork or pastry blender. Spoon over pie filling. Use as much as you want of the topping. Put the rest in a zip-type bag in the refrigerator to save. Return pizza to the oven and continue to bake for 10 to 15 minutes or until crust is light golden brown. Remove and drizzle with Vanilla Glaze.
Yields one 16-inch dessert pizza.
Submit a Recipe Correction
Gotta be honest with y'all. I had Pizza Hut Dessert Pizza years ago, made by the man who invented it. The name was Bryan Bryant at the Graham Texas Pizza Hut where he was the manager. I hope Pizza Hut paid Bryan Bryant well for stealing his invention. Hope you are still out that way Bryan, rockin in the free world! Bryan had that magic.

I was sad when Pizza Hut got rid of their dessert pizzas. I liked them so much, I'd request one for my birthday instead of a birthday cake. The recipe turned out pretty good. This was my first attempt at any dough. I'll have to work on that. I used instant pizza yeast instead of the recommended yeast. I didn't get much rising out of it. I don't know if my can of cherries was typical or light on the cherries but I ended up needing one and a half cans to get good coverage. I followed the crumble recipe exactly but it came out to be a large clump so I kept adding oats until it was close to the crumbles I was picturing in my head. After finishing, I realized I still could have used some more oats. The tops of my crumbles burned before the crust was done. In the future, I recommend not putting on the crumbles until halfway through the baking time. Overall, it still tasted wonderful. I still think I'll have it in place of my birthday cake every year!