Pistachio-Crusted Moroccan Rack of Lamb With Israeli Couscous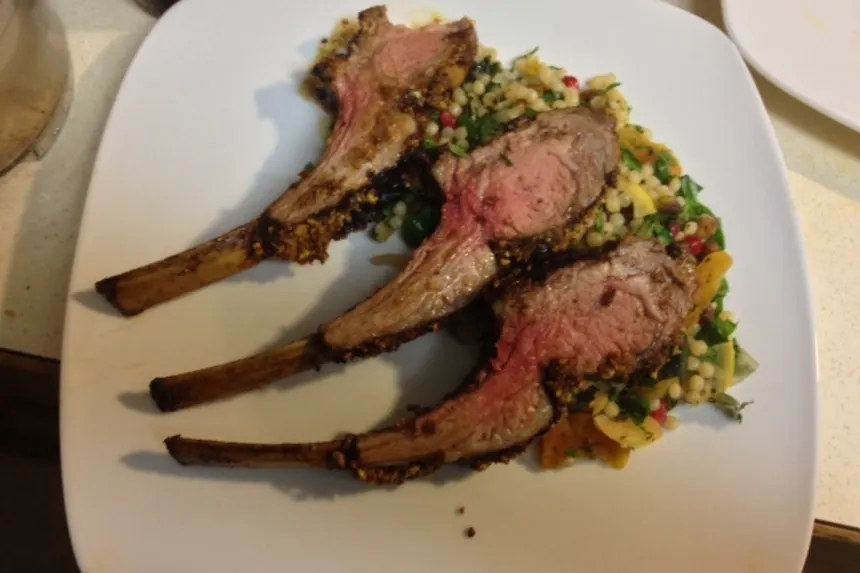 photo by French Terrine

Ready In:

1hr

Ingredients:

17
directions
Rinse rack of lamb under cold water and pat dry. Using a sharp knife, cut a few slits between the bones and into the meat. (This will allow some of the spice blend to penetrate into the meat) Brush with olive oil. Sprinkle with Ras el hanout and paprika. Allow to stand at room temperature while preparing the couscous.
Rinse cilantro, parsley, and mint leaves. (Amounts listed above in ingredients are approximate, since I use a handful of each) Dry in paper towels, then roughly chop. Also roughly chop preserved lemon and dried apricot. **For most recipes that call for preserved lemon, thoroughly rinse off the salt and remove the pulp and seeds, using only the rind.** If you do not have preserved lemon, zest a whole lemon to add later while combining couscous ingredients.
Grind pistachio nuts and combine with bread crumbs. (If your pistachios are salted, there is no need to add salt to the lamb before searing it).
To prepare the Israeli couscous, melt butter in saucepan and sauté chopped onion until soft. Add the couscous and cook with the sautéed onion, then add the stock. If you do not have stock, use water. Bring to boil, then reduce heat. Cover and continue simmering about 8 minutes, until couscous is soft. Not all of the liquid will be absorbed. Empty contents into a fine-mesh strainer and rinse with cold water, rinsing off the starch that was released during simmering. Return the rinsed and drained couscous back into the saucepan and reheat slightly.
Prepare your lamb: Preheat oven to 375. If your pistachio nuts are unsalted, sprinkle rack of lamb with salt. Using an oven-proof skillet, heat olive oil over moderately high heat. When oil is hot, sear the lamb rack until browned, about 5 minutes per side.
Remove pan from heat. Slather both sides of lamb rack with pomegranate molasses. Then with meaty side of lamb rack up, pack nut crumb mixture on top. Place skillet in oven and roast until internal temp reaches 140 degrees F for rare, about 15-20 minutes. Then allow to stand a few minutes before carving.
Combine couscous, preserved lemon or zest, apricot, pomegranate seeds, and chopped mint, cilantro, and parsley. If desired toss couscous with a splash of olive oil and a small amount of lemon juice from the zested lemon.
Carve rack into 8 chops. Spoon couscous onto plate and arrange chops on top.
************************************************************************************************.
Preserved lemon: You will need a glass jar with an air-tight seal. Combine ~ a tablespoon of coriander seed with ~ a tablespoon of fennel seed. Place 1 bay leaf and 1 cinnamon stick in the bottom of glass jar. Have a small bowl of Kosher salt nearby. Slice lemons in quarters ALMOST down to stem end, but leave intact. Place coriander and fennel seed inside lemon and also fill with salt. Place cut side down into glass jar, squeezing as many into the jar as you can. As you squeeze them, some of the lemon juice is released, but not enough to fill the jar. Just continue packing in as many lemons as you can and add additional salt between layers of lemon. Top off with freshly squeezed lemon juice. Then refrigerate for a month. I think this is Jamie Oliver's technique, but there are many out there. He has also suggested doing this with other citrus, like limes and mandarin oranges. Meyer lemons work nicely. Some techniques suggest a layer of olive oil on top, and this works well, too.
Questions & Replies

Got a question?
Share it with the community!
Reviews
Have any thoughts about this recipe?
Share it with the community!