Perfect Pie Crust from King Arthur Flour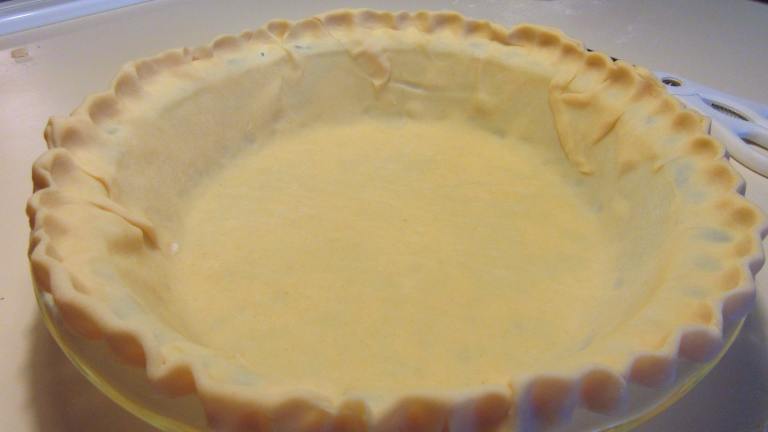 Saw this method for making pie crust on KAF site. It involves using your fingers to attain the perfect consistency. Basically, the method includes working in larger than usual hunks of butter, and instead of mashing them with a pastry cutter, you squeeze the butter pieces with your fingers to flatten them. Those pieces of flat butter will make for the coveted "VB" (visible butter) in your rolled crust, and the taste is flaky and fantastic on your resulting pie
Ready In:

25mins

Serves:

Yields:

Units:
directions
Sift together the flour and salt in a large bowl. Set to the side.
Size your butter. One stick cut into small pieces, the other cut into fairly large pieces (double the size you'd usually cut for a pie crust.
Work in the stick of smaller butter with a dough scraper (my new favorite tool and very easy to clean). It's not going to have the same impact that double the butter would in terms of working in, but go for the regular pea sized consistency.
Now, add the bigger hunks of butter. Gently coat them with flour in the mixture, so they won't stick to you when you squeeze them.
one by one, squeeze all of those pieces of butter until they're flat like pancakes. You don't have to be too precious about it. Grab, squeeze, then move on to the next one.
Give the mixture another stir with your pastry scraper. Now, start adding the water. Switch back to your dough scraper.
Keep on adding it bit by bit until the dough forms a shaggy consistency, still floury but you can clump it together.
Gather, form into a ball, and place on top of a sheet of plastic wrap. Wrap the plastic on top of it, not too snugly, and then flatten it into a disc with your hand. Doing it this way, I learned, helps the dough spread out into the plastic and is just less messy.
Chill dough in fridge.
Proceed with your recipe as usual.
Submit a Recipe Correction
RECIPE MADE WITH LOVE BY
"Saw this method for making pie crust on KAF site. It involves using your fingers to attain the perfect consistency. Basically, the method includes working in larger than usual hunks of butter, and instead of mashing them with a pastry cutter, you squeeze the butter pieces with your fingers to flatten them. Those pieces of flat butter will make for the coveted "VB" (visible butter) in your rolled crust, and the taste is flaky and fantastic on your resulting pie"
Saw this method for making pie crust on KAF site. It involves using your fingers to attain the perfect consistency. Basically, the method includes working in larger than usual hunks of butter, and instead of mashing them with a pastry cutter, you squeeze the butter pieces with your fingers to flatten them. Those pieces of flat butter will make for the coveted "VB" (visible butter) in your rolled crust, and the taste is flaky and fantastic on your resulting pie