Peel and Eat Shrimp With Spicy Cocktail Sauce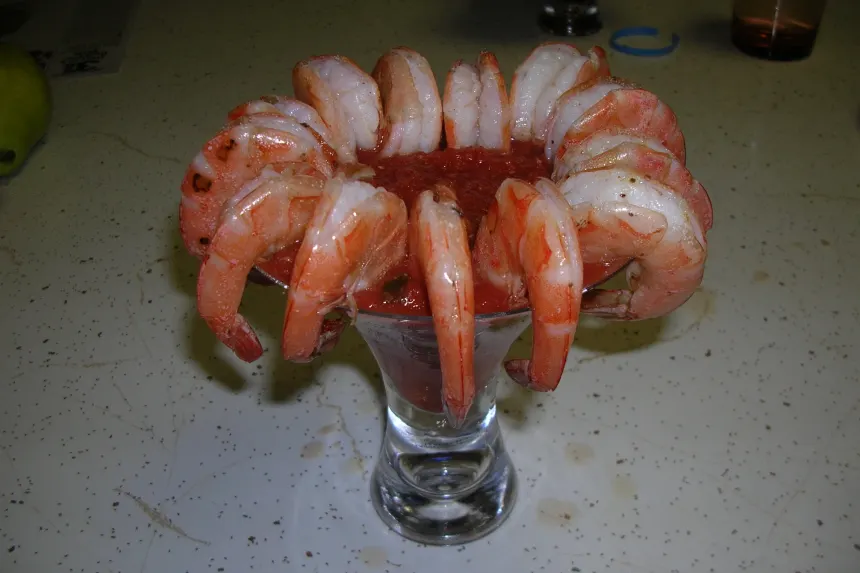 photo by the-cat-did-it

Ready In:

30mins

Ingredients:

21
directions
Mix ingredients for your brine, be sure that all the salt and sugar are completely dissolved before adding shrimp or other spices (very important!) Place shrimp into a bowl with brine, add whatever extra you choose, and refrigerate for 20 to 25 minutes.
Don't go any longer or they will start to become a bit too salty.
While shrimp are brining, place tomatoes, chili sauce, horseradish, sugar, pepper, and salt in food processor and blend until smooth.
Refrigerate cocktail sauce until ready to serve.
Place a baking sheet covered with foil on broiler pan under oven broiler and preheat for 5 minutes.
(My boiler is small and awkward. When making larger batches of this, I've put the shrimp onto the top shelf of my oven on its highest setting).
Remove shrimp from brine and drain thoroughly.
Rinse the shrimp under cold water to remove the brine and dry on paper towels- important step, do not skip it!
In a large bowl, toss shrimp with olive oil, (I use a mister to coat them evenly) and sprinkle with Old Bay seasoning, if desired.
Place shrimp onto the heated sheet pan and return to broiler immediately.
After 2 minutes, check your shrimp.
They should be truning slightly pink and the meat should be separating from where they were deveined.
Turn the shrimp with a pair of tongs.
Return the shrimp to broiler for 1 minute.
Transfer shrimp to a cool bowl or cookie sheet and refrigerate immediately.
Once shrimp have chilled, serve with cocktail sauce.
These shrimp are great served warm right from the oven too.
I usually can't wait until they chill before I eat them!
Questions & Replies

Got a question?
Share it with the community!
Reviews
I was not raised on seafood. I have yet--at least until now--to acquire a taste for it. I try to suffer through an occasional fish or shrimp dish because they're supposed to be good for you. The only way I've ever been able to stomach shrimp is peel 'n' eat with a large glass of wine. So yesterday, when presented at the store with cooked and ready-to-eat peel 'n' eat versus uncooked but fairly locally wild caught, I tried to be one of the new generation of upstanding folks who value local and wild-caught. (It didn't hurt that it was less expensive.) Holy Moses, am I glad I took on the dare to myself to cook the shrimp. Let me just say that if you are a peel 'n' eat shrimp sort of person, do not go near the already ready to eat stuff. This surpasses it by miles. And miles. What a difference! I must confess, I already had a cocktail sauce prepared from a previous recipe, so I used that, but I cannot wait to give this one a try. All I know is this: If you are new to or leery of seafood (in this case peel 'n' eat shrimp), TAKE THE TIME AND EFFORT TO COOK YOUR OWN SHRIMP! It makes a world of difference. Edit: I forgot to add (in all my excitement) that the only things I used in the brine were the salt, sugar, two cloves of crushed garlic, a splash of lemon juice and the water and ice.

 
RECIPE SUBMITTED BY
Friend me on Facebook: <a href="http://www.facebook.com/rebekah.reid" title="Rebekah Reid" target="_TOP" style="font-family: "lucida grande",tahoma,verdana,arial,sans-serif; font-size: 11px; font-variant: normal; font-style: normal; font-weight: normal; color: #3B5998; text-decoration: none;">Rebekah Reid</a> | <a href="http://www.facebook.com/badges.php" title="Make your own badge!" target="_TOP" style="font-family: "lucida grande",tahoma,verdana,arial,sans-serif; font-size: 11px; font-variant: normal; font-style: normal; font-weight: normal; color: #3B5998; text-decoration: none;">Create Your Badge</a><a href="http://www.facebook.com/rebekah.reid" title="Rebekah Reid" target="_TOP"><img src="http://badge.facebook.com/badge/1059979755.389.889814801.png" alt="Rebekah Reid" style="border: 0px;" /></a> Follow me on <a href="http://twitter.com/Becky_R">Twitter!</a> <a href="http://web.me.com/kozmic_blues">My Website!</a> <a href="http://beckystastyplanet.blogspot.com/">Food Blog!</a> <a href="http://gallery.mac.com/kozmic_blues">Photo Gallery!</a> Thanks for visiting my "About Me" page!! I'm Becky and I live in Providence, Rhode Island. I probably enjoy cooking more than almost anything...which is why I adore this site so much!! Nothing makes me more happy than to create a meal for family and friends to share together and ENJOY. <img src=http://t0.gstatic.com/images?q=tbn:mxVQnIIYIrpqKM:http://quakeragitator.files.wordpress.com/2009/04/autism_awareness_logo3.jpg><img src=http://tbn0.google.com/images?q=tbn:AfhXhWEtLQYbVM:http://www.marriageequalityri.org/photos/shop.a1.jpg><img src=http://t0.gstatic.com/images?q=tbn:iSI4l3JhSOqKPM:http://marriagerights.files.wordpress.com/2008/11/gay-pride-flag-738850.jpg><img src=http://tbn0.google.com/images?q=tbn:1J1-2O7PWW4c5M:http://www2.hawaii.edu/~mccorkhi/vegan.jpg> <img src=http://i335.photobucket.com/albums/m445/mliss29/vegn%20swap/vegnswap.jpg> <img src=http://i335.photobucket.com/albums/m445/mliss29/vegn%20swap/group07kiwi.jpg> <img src=http://i335.photobucket.com/albums/m445/mliss29/vegnswap1/group02banana.jpg> <img src=http://i335.photobucket.com/albums/m445/mliss29/vegnswap1/group12starfruit.jpg>
View Full Profile