Orange Juice Cake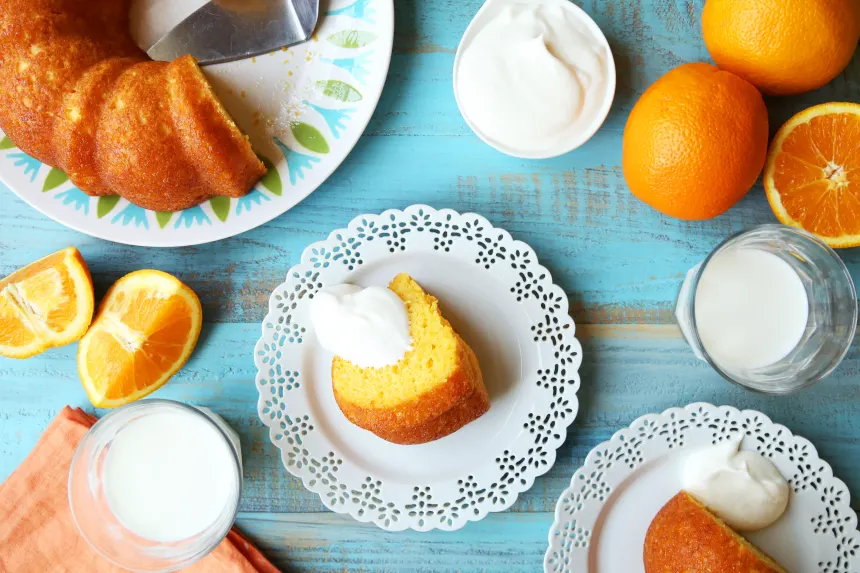 photo by Jonathan Melendez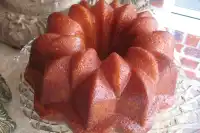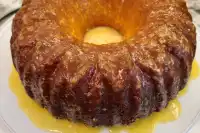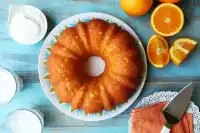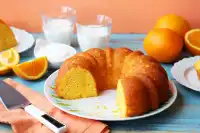 Ready In:

55mins

Ingredients:

8
directions
Preheat oven to 325 degrees.
Mix cake mix, pudding mix, eggs, oil, and orange juice together.
Pour in a well-greased Bundt pan and bake for 35-40 minutes.
For glaze, melt butter in a sauce pan and add sugar and orange juice and bring to a boil, stirring constantly.
After removing cake from oven, pour glaze on cake and allow to set for 15 to 20 minutes, then invert onto plate.
Questions & Replies

I made this cake twice today & both of them failed. I thot I followed the recipe exactly. I'd read all the reviews & no one mentioned having a flop. I did make the drizzle while the cake was baking so it was still hot when I put it on the cake. That's when the cake collapsed in the center. The first one I baked the full 40 minutes at 325. The 2nd one I put up to 328 (just in case the over wasn't hot enough). When I took the 2nd cake out it all collapsed as soon as I put the drizzle onto it. This one was complete & nothing could be saved so I scooped it into the garbage disposal. I used Duncan Hines cake mix & Jello instant pudding (regular, not the sugar free). Was there anything left out of the instructions, such as slightly beaten eggs or cream the sugar & the oil. I added the ingredients to the bowl in the order listed & stirred them with a spatula. Then I turned the mixer on & got a smooth batter before pouring into the pan. I didn't over beat them, just used the lowest setting for "mixing". My next step is to get an oven thermometer & check my temperature to make sure it's accurate. Any advice? Something I missed in Homemaking 101? I have never had such a terrible experience with a cake & I make cakes for holidays & special occasions. My Thanksgiving cake was ok. Thanks in advance, Jane Wininger

 

This cake is so moist with a great texture. Made as is with a few changes. I added orange rind to both the batter AND the glaze, cut the amount of orange juice in the glaze and used powdered sugar to make it thicker. I also waited until it cooled and turned cake upside down to glaze--don't know why you wouild glaze the bottom of the cake as recipe calls for. Also poking the cake with toothpicks makes the cake tastier from more glaze. Anyway, it was easy and delicious. Thanks!

 
Reviews
Oh Em Geee! I am not a fan of anything but chocolate, or so I thought! Made this cake two days ago for a co-workers last day because she requested an orange cake like her grandmother used to make, (Ewwww...I thought). I made this and it was soooo delish. I am now making another one since I brought home a slice to my fiance and he LOVED it. The only change I made to boost the flavor was to add a teaspoon of orange extract to the batter and a half teaspoon of orange extract to the glaze. KNOCKED OUR SOCKS OFF! Thank you for such a wonderful recipe! It;s a KEEPER!

 

I don't usually use cake mixes, but I needed something fast and this one turned out to be a winner. Guaranteed to please! Extremely moist and yummy - The only problem I found was that the very top of the cake wasn't getting enough glaze. So now I increase the glaze recipe by one-half. Pour the normal amount of glaze over the bottom of the cake, and once it's been inverted onto a plate and cooled some more, I spoon the rest of the glaze over the top.

 

I was reluctant to make this cake, though it sounded yummy. I finally did today, successfully! Here are some hints that may help out those who had problems. My cake took approx 10+ minutes longer than stated. I baked it until a toothpick came out without batter. Next, I cooled it in the pan for 25 minutes before attempting to remove it.I then cooled another 40 minutes and finally poked holes in the top and added the syrup slowly so it could be absorbed (mostly) It smells heavenly!! Hope this helps a bit!