Nancy Silverton's Grape Sourdough Starter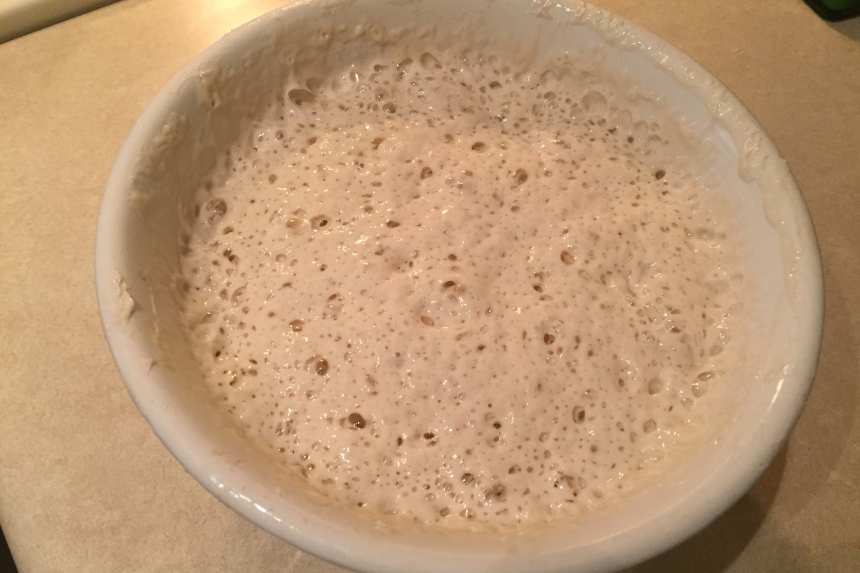 photo by Tom K.
Ready In:

10mins

Ingredients:

3
directions
Wrap the grapes in well washed cheesecloth, tying the corners to form a bag; lightly crush them with a rolling pin (to release the sugar to mix with the natural yeast on the skins; just like making wine!) and immerse them in the flour water mix. Cover tightly with a lid or plastic wrap secured with a rubber band. Leave at room temperature for 6 days, stirring once or twice a day for six days.
The bag of grapes will eventually appear inflated, and liquid will begin to separate from the flour base. The mixture will begin to taste and smell slightly fruity, and the color will be strange. That is as it should be. By the sixth day the bag of grapes will have deflated, the color will be yellow, and the taste pleasantly sour; the fermentation is complete. The starter is living but weak, and it needs to be fed.
Remove the grapes and squeeze their juices back into the starter. Stir it up thoroughly and transfer it to a clean container. (Although you can use it after just one feeding, the starter will be stronger and healthier with the full treatment) You can refrigerate it until you're ready to proceed.
Three days before you plan to use it, stir 1 cup flour and 1 cup water into the container, blending well. Let stand uncovered at room temperature until it bubbles up — 3 to 4 hours — then cover and refrigerate. Repeat this the second and third day.
Store the starter tightly covered in the refrigerator where it will keep perfectly for 4 to 6 months, after which it's a good idea to pour off all but 2 cups and give it another feeding. Before using the stored starter for bread, however, give it the full 3-day feeding schedule once again to restore it and to tone down excess sourness.
Questions & Replies

I've made the recipe referred to about a doz times & I'm holding Nancy Silverton's book...and this version of the recipe is not 100% accurate & leaves a lot of details out - Nancy's recipe/method is a two week (15 day) commitment, with care & feeding throughout! Included here are a few more details to get you started - first off, be sure to get the ingredients right- 1# Organic/unwashed grapes, at room temp (She suggests Red or Black grapes, I've used green ones too) 2# weighed/~4cups lukewarm water - @78degF(VIP, be sure to use thermometer) & 1#, 3oz unbleached organic white flour (~3 1/4 cups) NEW clean/organic cheesecloth (using all organic for the culture makes sure there is a good 'ecosystem' for the culture to develop in; you can use whatever flour you like to make your bread after you have starter ;-) To build the Culture: 1) Wrap grapes in double-layer of cheesecloth & bind in its pouch with unbleached kitchen twine 2) CLEAN everything but the grapes, esp your hands! 3) gently mix flour & water w/hands in a 1 gal+ container with a tight fitting lid* 4) Hang grape pouch over the flour soup and gently squeeze to mash grapes, draining juice into the flour soup 5) Swish/swirl grape bag into the flour mixture, ultimately push to the bottom of the container 6) Put lid on, or *cover with plastic wrap & secure w/a rubber band to make sure its air tight 7) Leave on counter, out of sun, in a ~70degF room: cool if its too hot (basement/garage) or wrap in blankets if its too cold in your house Watch it on the counter, or check back in 3 days - it should be bubbly, and have a peasant, yet tangy smell when you remove lid...REPLACE lid. On day 4 it will start to turn dark & smell ~alcoholic, and you start by feeding the starter: 1/2# 78degF water+4 oz flour, stirring with clean hands, swish/stir in gently - the new in with the old flour mixture & grape bag - leave grapes & recover. Days 5-9 you watch it (you may see yellowish 'water' this is OK)...If mold appears its Ok/safe: remove it and add about a cup of flour & 1 cp water to rejuvenate-Check/remove any mold each day. On day 10 you remove grapes (squeezing any remaining liquid into your container) and begin to cultivate your Starter: Discard (share with friends!) all but about 2-cups of the Culture mixture and transfer to clean, NOT airtight, container (large enough for abt 10-12 cups). Set up a daily feeding schedule you can keep, as you do it 3x in every 24 hours for next 5 days (and then, forever!) Feeding = Doubling the volume at each feeding, and cutting it in back the next morning, starting over with just 2 cups again (a lot of basic bread/pizza dough/etc can be made with the waste after day 12). ...you can follow the basic instructions above, cutting it down & re-feeding each day... After day 15 you can cut it down to 2 cups and store in fridge, refreshing at regular intervals, and definitely after not using it for more than a week. Now - you have your lifetime starter "pet" - daily care & feeding!!

 

I think there is a crucial step missing from the instructions which is how much of the liquid from the grape mixture to use to start building the starter. After mine didn't bubble up I went to troubleshooting sites and they stated you should use 200grams of the grape liquid and then start your first feeding. Did I just miss this in the directions?

 
Reviews
I originally got this recipe from Cook's Illustrated & created two cultures, one in 2004 & the second one in 2015. I'm supposed to give it a feeding weekly, but honestly, it sits in the back of my refrigerator for months on end before I remember to pull it out & sweeten it. It is extremely forgiving & durable, & I've never had any problem bringing it back to life. Some times the culture is super active & overflows it's jar! Love it!

 

I made this grape starter for the first time and after waiting the appropriate time, fed it for three days and made Jim Lahey's no knead sour dough bread in a Dutch oven. Pretty good for my first attempt. Look forward to trying Daniel Leader's Pain de campagne next week. Thanks, Nancy for the great starter recipe.