Sunset Sourdough Starter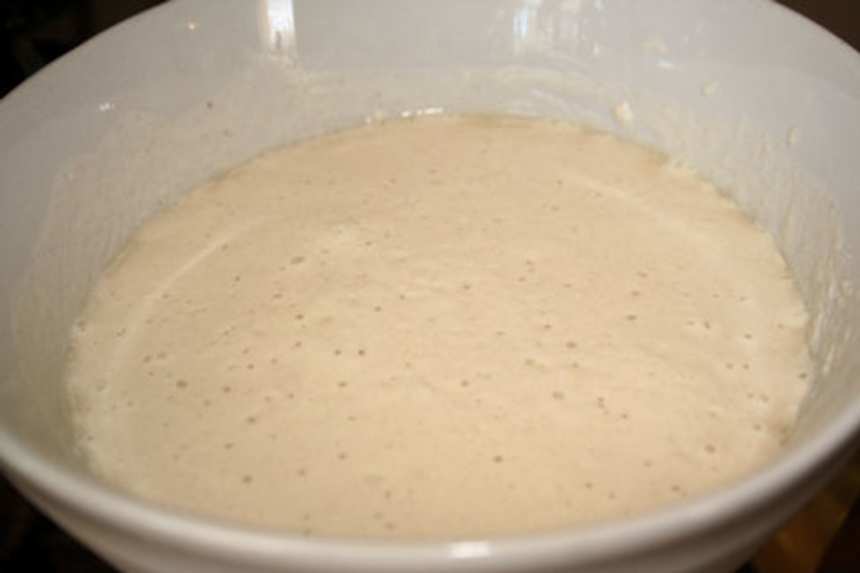 photo by Nimz_

Ready In:

120hrs 15mins

Ingredients:

3
directions
Fill a 3 to 6-cup container with hot water and let it stand. In a pan, heat the milk to 90-100 deg.F. on thermometer. Remove from heat and stir in yogurt.
Drain water from container, wipe dry, and pour in milk-yogurt mixture. Cover tightly; if using a screw-top jar with a metal lid, place a double layer of plastic wrap over mouth of jar before screwing on lid. Let stand in a warm place (80-90 deg F.).
After 18-24 hours, starter should be about the consistency of yogurt - a curd forms and mixture doesn't flow readily when container is slightly tilted. (It may also form smaller curds suspended in clear liquid). If some clear liquid has risen to top of milk, simply stir it back in . However, if liquid has turned light pink, milk is beginning to break down - discard and start again.
After curd has formed, gradually stir in flour until smooth. Cover tightly and let stand in a warm place (80-90 deg F.) until mixture is full of bubbles and has a good sour smell (2-5 days).
If clear liquid forms during this time, stir it back into starter. But if liquid is pink, spoon out and discard all but 1/4 cup of starter, then blend in a mixture of 1 cup each warm skim milk or low-fat milk (90-100 deg F.) and flour. Cover tightly and let stand again in a warm place until bubbly and sour smelling.
To store, cover and refrigerate.
Always bring your starter to room temperature before using it (this takes 4 to 6 hours).
To maintain an ample supply, replenish your starter every time you use it with equal amounts of warm milk and flour. Use the same type of milk and flour to maintain consistency. Cover tightly and let stand in a warm place for several hours or until bubbly; then cover and refrigerate.
If you bake regularly, your starter will stay lively. If you don't bake often, it's best to discard about half your starter and replenish it with warm milk and flour about every 2 months.
Reviews
It took me 2 times to get this right. The first time I let the starter sit too long because I had some notion that it should be thicker, why I don't know. The 2nd time around I probably let it sit 1 day too long because my sourdough bread turned out quite sour - but still VERY good. I replenished the starter and it is now resting in the fridge. The starter consistency should be like yogurt once it is done.

 

I first came upon this starter in "California: The Beautiful Cookbook" by John Phillip Carrol and subsequently in the Sunset cookbooks. There are testimonials on the Internet that people have kept it going for 30+ years and have passed it on to their children. Despite my initial anxiety, it matured without problems. I have used it in Recipe # 97694, which called for extra leavening. But the big news is that I used it for Recipe #154142 without any additional leavening, and it was VERY active after only two weeks from its inception. The taste was pleasant ... I can hardly wait to see how it will be after some months. In conclusion, a very good starter for the fretful novice baker.

 

This worked very well for me. Easy to make although mine developed water on top often, but just stirred it back in. I let it sit out on the counter for the full 5 day with instructions for DH to stir when the water surfaces. This never really developed a very strong sourdough smell and the sourdough flavor was very mild, compared to other starters I've used. I discarded all but 1/3 cup. Made my recipe #287194 and it turned out very nice. Thanks for sharing. Made for 1-2-3 tag game :)

 
RECIPE SUBMITTED BY
My screen name is a diminutive in Lithuanian for bread, so you won't be suprised to learn that I love to bake bread. In recent years I have been baking a lot of sourdough breads and have several starters sitting in my refrigerator. But I like to cook a lot of other things, as well, especially from various cultures. The cat wishes I would concentrate on meat and fish... I joined a few years ago but started posting recipes and participating in forums just recently - I wish I had done so earlier. Recipezaar is a great community! Right now I am a co-host for the Breads and Baking and the Eastern Europe forums - I hope to see you there!
View Full Profile