Mozzarella En Carozza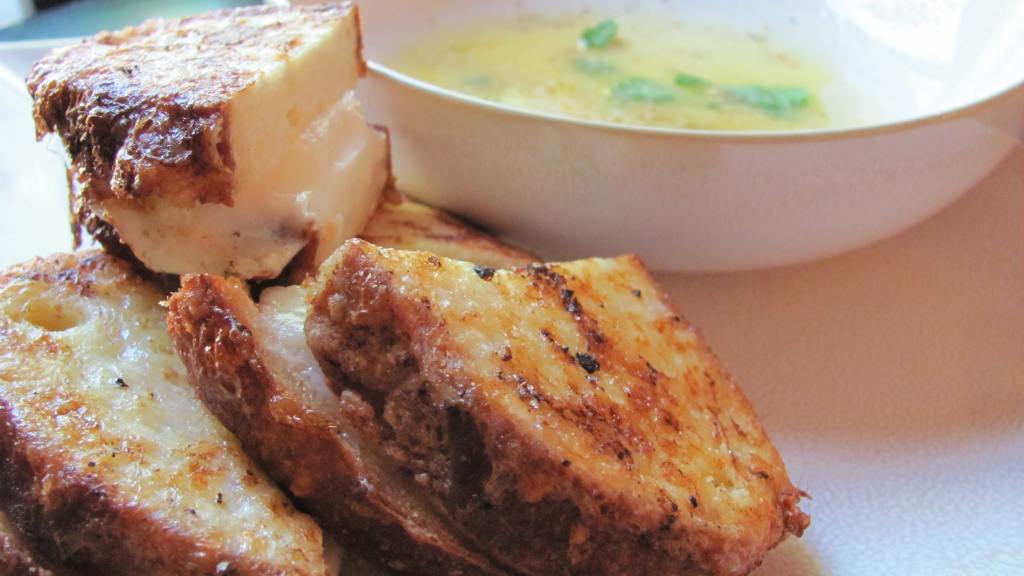 Ready In:

20mins

Ingredients:

17
directions
Beat together the eggs, milk and Parmigiano-Reggiano in a medium bowl until they are a homogenous mixture.
Season with salt, to taste, and reserve.
Divide the mozzarella between 4 slices of the white bread.
Put the remaining slices of bread on top of the mozzarella and press to close.
Preheat the oven to 300 degrees F.
Add peanut oil to a large wide skillet until it is at least a 1/2-inch deep. Heat over medium-high heat to 350 degrees F.
Dredge each sandwich in flour and shake off the excess.
Dip each sandwich generously in the egg/and cheese mixture.
Work in batches, do this process to each sandwich just before frying, it's not a good idea to flour and dip ahead of time.
Secure each sandwich with toothpicks.
Put the first sandwich in the hot oil.
Remove the toothpicks to turn and insert the toothpicks in the second side.
When each sandwich is nice and brown on both sides, remove it from the oil and blot it on paper towels.
Put it on a sheet tray with a rack and keep warm in the preheated oven. Repeat this process with each of the sandwiches.
Cut the sandwiches diagonally into quarters, arrange on a serving platter and serve with the sauce.

Sauce:

In a small saute pan combine the olive oil, garlic and crushed red pepper. Cook over medium heat until the garlic is golden brown and very aromatic. Add the lemon juice and capers and shake to combine.
Swirl in the butter and season with salt, to taste. Toss in the parsley and serve immediately.